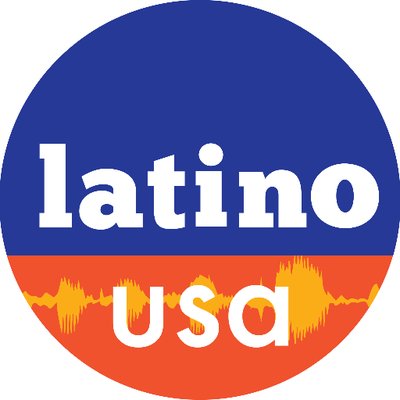 Latino USA, a national weekly radio program and podcast about Latinos and Latinas and other underrepresented groups, is taking applications for a new full-time Editor.
We're looking for someone to join our expanding and vibrant team of audio journalists to work as an editor —both with our staff and freelance contributors— to shape and refine their stories. The ideal candidate will have a knack for editing stories into shape, recognizing what makes a good story in the first place, and shepherding stories through the production process from pitch to publication in a collaborative environment. They believe in true teamwork and understand audio production to guide and support producers to do their best while also having an impeccable taste and vision for what makes a good Latino USA story. Part of the job will be to help mentor producers into better storytellers, so familiarity with audio production processes is a must. They should have a passion for telling stories that affect the Latino and other underrepresented communities and working with voices that are rarely heard in the public media landscape. We seek someone who is unafraid of rolling up their sleeves and doing whatever it takes to complete an assignment. 
About Latino USA:
On the air for 30 years and distributed by PRX, Latino USA is the only national, English-language news radio program produced from a Latino perspective. Anchored by Maria Hinojosa, the mission of Latino USA is to provide weekly insights into the lived experiences of Latino communities, and to be a window to the cultural, political, and social ideas that impact the country's demographic. Each week, we present a unique mix of coverage on culture and politics, diverse on-air voices, and in-depth reporting on current and emerging issues impacting Latinos and the nation. We believe in narrative journalism—using characters, plot, and attention to detailed storytelling alongside the highest ethical standards to connect people to stories that matter to them. We believe in rigorous fact-checking, and in providing humanity, history, context, and fun.
Latino USA's interviews and features cover subjects concerning Latinos and other underrepresented populations nationwide that range from immigration, criminal justice, technology, and human rights to labor, sexual and reproductive health, identity, arts, and cultural coverage. For more information on the show, go to latinousa.org. 
The offices of Futuro Media Group, which produces Latino USA, are located in Harlem, in New York City, although the position is remote with the ability to work from our offices.
Duties and responsibilities
Reporting to one of the team's Senior Editors, the Editor will:
Shape and edit both long-term and quick turnaround stories with in-house producers as well as outside contributors to meet the highest quality in journalistic values, content, tone, and sound.

Supervise selected assignments, performing script and audio edits, and ensuring that contributors deliver all needed materials in a timely manner, including web copy and other story collateral.

Ensure that

Latino USA

's "voice" is consistent in our stories and it adheres to Futuro Media's code of ethics.

Contribute to weekly planning of hour-long

Latino USA

shows.

Generate ideas for coverage.

Produce at least one interview between María Hinojosa and a guest of relevance to the show's audience every year.

Assist Editorial Director and Senior Editors with shaping long-term reporting projects. Fill in for Senior Editor as needed.

Work on other tasks assigned by leadership.
Qualifications
Bachelor's or Master's degree in journalism, communications or a related field, or comparable work experience.

Narrative, long-form writing and/or editing experience strongly preferred, 1-2 years experience working specifically as a radio editor a plus;

Understanding of spoken Spanish language.

Commitment to diverse coverage within and outside of the Latino community, in terms of sexual orientation, gender, and race.

Ability to think about sound design when conceptualizing a story.

Excellent attention to detail.

A team player that thrives in a fast-paced, deadline-driven environment.
DEADLINE AND APPLICATION PROCESS
Cover letter stating qualifications, resume, three (3) work samples and two (2) references must be submitted by Feb. 10, 2023 to be considered for this position. To apply, please submit your resume and cover letter via this link: https://futuromediagroup.applytojob.com/apply/F56Ex2rKWP/Editor-Latino-USA-The-Futuro-Media-Group
The compensation range for this position is between $63,000 – $72,000 based on experience. 
Only the most qualified candidates will be contacted. 
No phone calls, please.
Futuro Media is a diverse work environment and encourages individuals from all backgrounds to apply.
About The Futuro Media Group
The Futuro Media Group is an independent nonprofit organization producing multimedia journalism that explores and gives a critical voice to the diversity of the American experience. Based in Harlem and founded in 2010 by award-winning journalist Maria Hinojosa, Futuro Media is committed to creating multimedia content for and about the new American mainstream in the service of empowering people to navigate the complexities of an increasingly diverse and connected world.