WNYC Studios and Futuro Studios Present 'La Brega: The Puerto Rican Experience in Eight Songs'

WNYC Studios and Futuro Studios Present
La Brega: The Puerto Rican Experience in Eight Songs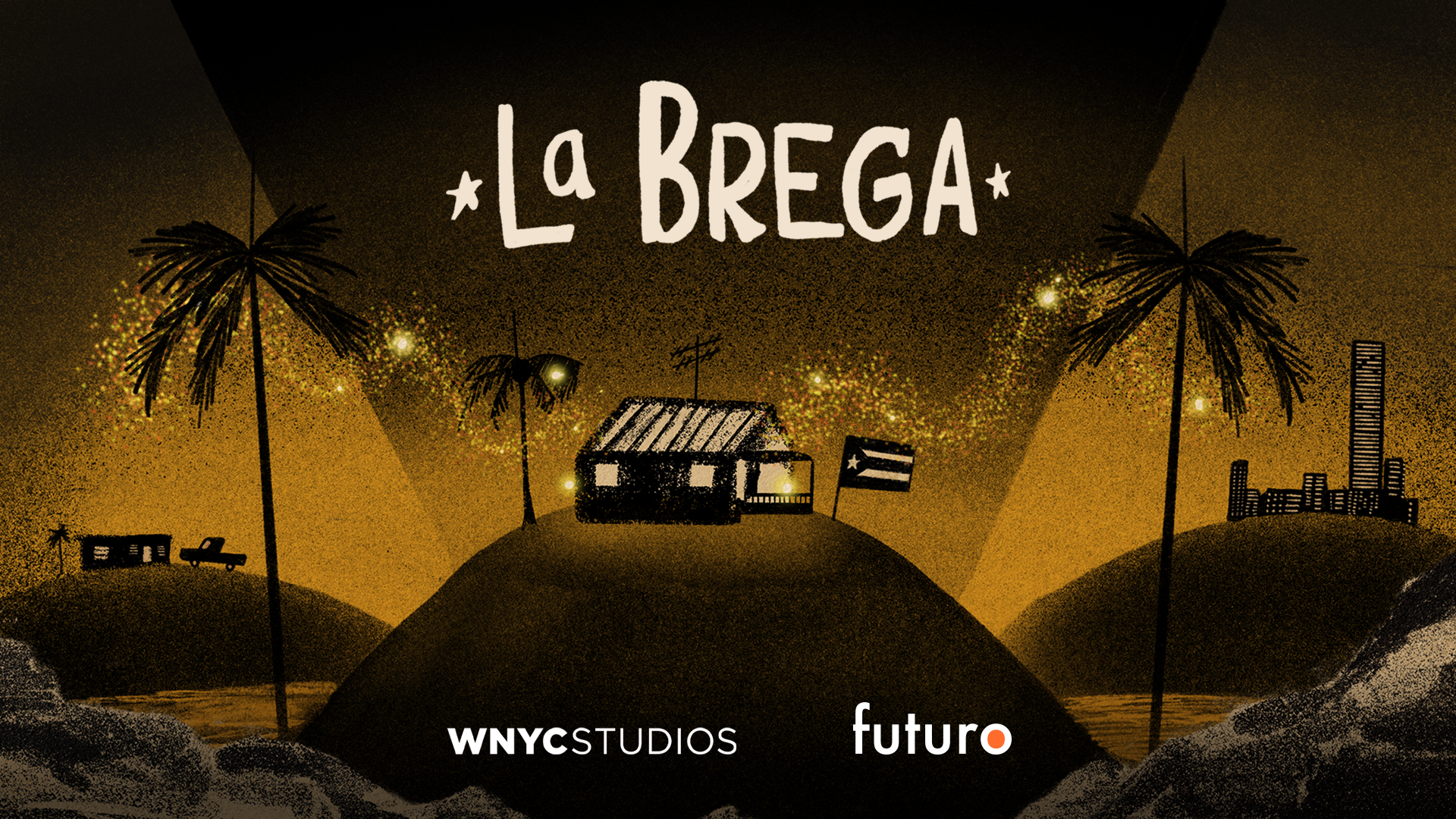 Second season of the critically-acclaimed podcast La Brega explores the culture, history, and spirit of the archipelago and its people through music
Eight-episode podcast series reported and recorded in dual language English/Spanish format 
Debuts Thursday, January 26
(New York, NY – January 12, 2023) – WNYC Studios and Futuro Studios present a second season of the critically-acclaimed, pioneering dual-language podcast, La Brega: Stories of the Puerto Rican Experience. The eight-episode, dual-language podcast series is reported and recorded in English and Spanish and will be available on January 26. The second season of La Brega is made possible by the Mellon Foundation. 
Hailed as one of the "Best Podcasts of 2021" by The New Yorker and The New York Times, La Brega: The Puerto Rican Experience in Eight Songs expands season one's exploration into the culture, history and soul of the island, this time through one of its most-cherished exports: its music.
Known as the island donde hasta la piedras cantan –"where even the rocks sing"– Puerto Rico is home to a dizzying breadth of musical expression. From the lyrical boleristas of the 1930s, to the electric salseros of the 70s, to the reggaetoneros of today who have taken music from the margins and made it a global sensation, La Brega takes listeners on an exciting, richly-reported, cross-genre adventure that captures the ceaseless creativity, emotional resonance, and yes, la brega ("the struggle") that are hallmarks of Puerto Rican music across eras and formats. The second season of La Brega is made possible by the Mellon Foundation.

Each episode of La Brega: The Puerto Rican Experience in Eight Songs is devoted to an iconic Puerto Rican song – from the anthemic lilt of "Preciosa" to the well-known pulsing beats of "Suavemente." In keeping with the broad range of genres and artists, the series employs a variety of formats: personal essays, storytelling, documentary reportage — to show how the themes and lyrics used in each composition reflect the resonance of those ideas today: colonialism, race, feminism, immigration, LGBTQ+ issues, and more.
Hosted by Alana Casanova-Burgess, the series once again brings together a collective of Puerto Rican journalists, producers, musicians, and artists from the island and the diaspora. Participants include writer and scholar Sergio Gutiérrez Negrón, writer and journalist with Centro de Periodismo Investigativo Joel Cintron Arbasetti, San Juan indie radio and podcast fixture Ezequiel Rodríguez Andino, independent journalist Mark Pagán, anthropologist Bárbara Abadía-Rexach, Orlando-based boricua journalist Raquel Reichard, El Nuevo Dia journalist Victor Emanuelle Ramos, and illustrator Fernando Norat. Plus, more music from Brooklyn-based electronic indie band Balún and the Afro-Caribbean group founded in Puerto Rico, ÌFÉ — who wrote the podcast's theme song. 
The second season also features the voices of notable Puerto Rican and other Latino and Latina musicians, singers, DJs, and academics, including:
Salsa legend

Rubén Blades

Latin Grammy award-winning singer-songwriter

Susana Baca

Panamanian songwriter

Omar Alfanno
Gabby Rivera

, Nuyorican writer and speaker, known for the Marvel Comics solo series,

America,

and her 2019 debut novel,

Juliet Takes a Breath

Independent Puerto Rican journalist

Bianca Graulau

, best known for her documentary, "Aquí Vive Gente," (People Live Here), featured as part of the music video for Bad Bunny's "El Apagón"

José Massó,

WBUR Boston DJ and host of Con Salsa, a 47-year long-running bilingual radio show

Pop artist

Ana Macho
Bobby Sanabria

, Grammy-nominated percussionist, music historian and co-Artistic Director of the Bronx Music Heritage Center

Alberto "Ringo" Martinez,

director and co-founder of leading Puerto Rican-based, Dominican merengue band, Patrulla 15

Richie Viera,

producer and owner of the legendary record store Viera Discos in Levittown, Puerto Rico 

Mireya Ramos,

founder of the only all-woman New York-based mariachi group, Flor de Toloache

Ophelia Pastrana

, YouTuber, stand-up comic, activist, and media personality based in Mexico City

Andres "Velcro" Ramos,

Puerto Rico-based hip-hop DJ, producer, and MC
"There's no bigger star in pop music today than Bad Bunny, but Puerto Rico's music has been moving people all over the world for over a century," said Alana Casanova-Burgess. "Season 2 sheds light on the songs that reflect what it means to be Puerto Rican and part of the diaspora — about the pride and yearning we feel for home, and that resonates with people everywhere. They capture joy, frustration, love, loss, and wonder of the human experience — in short: la brega."
"This season of La Brega is going to blow people away," said Marlon Bishop, VP of Podcasts at Futuro Studios and co-creator of La Brega. "The episodes are fun, creative, poetic, and fresh. We're creating something really special." 
"La Brega was a pioneer of the dual-language podcast format, and it's fitting that the second season spotlights and honors Puerto Rico's influence on music and culture over time and across languages," said Kenya Young, Senior Vice President, WNYC Studios. "These sound-rich and deeply reported stories embrace a nuance and beauty not always found in coverage of Puerto Rico. WNYC Studios is incredibly proud to partner with Futuro Studios to bring listeners a second season of La Brega."
LA BREGA LIVE AND IN-PERSON – The Greene Space at WNYC and WQXR will be hosting a La Brega Season 2 Launch Party in New York (Jan 26, 7pm), featuring La Brega host Alana Casanova-Burgess, the band Balún, and DJ Christian Mártir for a night of music and dancing in celebration of the new season.
Episode descriptions are as follows (order subject to change):
TRACK 1: Preciosa
In the series opener, host Alana Casanova-Burgess introduces the iconic music of Puerto Rico that not only encapsulates the Puerto Rican global experience, but are examples of its innovation and expression. From the island's most celebrated composer, Rafael Hernandez, to the globe's most-streamed artist, Bad Bunny, the first episode depicts how a tiny archipelago contributed to the canons of jazz, pop, hiphop, salsa, merengue, and reggaeton — all while developing a distinct voice that often speaks to a universal diaspora experience.
TRACK 2: El Gran Varón
Written as a controversial cautionary tale in which the song's protagonist Simon dies alone allegedly from AIDS, "El Gran Varón" has had a lasting and controversial impact in the LGBTQ+ community. For some, it offers representation at a time when pop cultural visibility was (more) limited. But for others, it's a hateful song entrenched with outdated tropes. For Nuyorican writer Gabby Rivera and her dad, Charlie, the song is a sobering reminder of what happens when parents don't embrace their child's identity. 
TRACK 3: Suavemente
By the end of the 1990s, merengue ruled supreme on the radio and TV in Puerto Rico, but the road to get there was long and complicated, coinciding with the growing Dominican population to the island and culminating in perhaps what was the pinnacle of its popularity and takeover in Puerto Rican music, at home and abroad: Elvis Crespo's "Suavemente." Journalist Ezequiel Rodríguez Andino shares the story of merengue's ubiquity and how the shift from salsa to merengue brought to the surface serious class and racial tension that still remain today.
TRACK 4: I Wonder If I Take You Home
Orlando-based boricua journalist Raquel Reichard takes us back to the mid-1980's, to the boom of Freestyle music and the hit, "I Wonder If I Take You Home" by Lisa Lisa & Cult Jam. Freestyle, a Nuyorican mix of Latin hip-hop and dance music, widely embraced by Puerto Ricans throughout the diaspora, was deemed dead by the mid-1990s. But in Orlando, fans have preserved and uplifted the genre. For Raquel and many of her peers, "I Wonder If I Take You Home" opened intergenerational conversations around sexuality, respectability and empowerment.
TRACK 5: Las Caras Lindas (De Mi Gente Negra)
"Las Caras Lindas" or "The Lovely Faces (Of My Black Folks)," written and composed by the prolific songwriter Tite Curet Alonso, is one of the best known salsa songs of all time and a love letter to dark-skinned Latinos. Anthropologist Bárbara Abadía-Rexach explores how Tite Curet's lyrics and perspective on race and colonialism can serve as a model today, when colorism continues to be an issue within many communities.
TRACK 6: Boricua en la Luna
"Boricua En La Luna" is a classic Puerto Rican anthem about a young man born outside Puerto Rico, who dreams of going back to his parents' home but never does. This episode expands on the themes of displacement and connection by asking, "what would happen if someone Puerto Rican were actually born on the moon?" Acclaimed Puerto Rican writer Sergio Gutiérrez Negrón answers the question in a short fictional story about Kelvin, the first human born on the moon who happens to be a Puerto Rican boy. 
TRACK 7: Vamos Pa' Plaza
Plaza Las Americas is not any mall—going there, "Pa Plaza," is a quintessential boricua experience. To know how the island's economy is doing, it is said, one need only see how full the parking lot at Plaza is. And while Puerto Rico's malls have been vessels of mainstream capitalism, they've also been incubators of the counterculture. So much so that one of reggeaton's earliest tunes, Baby Rasta and Gringo's "Pa Plaza" is literally about being there. In this episode, Puerto Rican journalist Joel Cintron Arbasetti and the La Brega team spend a day at Plaza Las Americas, meeting people whose lives reflect Puerto Rico's challenges and are there for a lot more than shopping.
TRACK 8: Olas y Arenas
In the final episode, Alana traces the fight against the illegal beach wall in Rincón as part of a historical fight for Puerto Rico's beaches, asking the tragically relevant question: "What exactly is a beach and who does it belong to?" Through conversations with a variety of experts and residents, we explore what's at stake and what may never be recovered, much like the unrequited love in Sylvia Rexach's classic bolero, "Olas y Arenas."
La Brega: The Puerto Rican Experience in Eight Songs will be available in both English and Spanish at labregapodcast.org and all other platforms where podcasts are available.
La Brega: The Puerto Rican Experience in Eight Songs was made possible by the Mellon Foundation.
***
ABOUT WNYC STUDIOS
WNYC Studios is the premier producer of on-demand and broadcast audio, and home to some of the industry's most critically acclaimed and popular podcasts, including Radiolab, On the Media, The Takeaway, The New Yorker Radio Hour, Death, Sex & Money, and Notes from America. WNYC Studios is leading the new golden age in audio with podcasts and national radio programs that inform, inspire, and delight millions of curious and highly engaged listeners across digital, mobile, and broadcast platforms. Programs include personal narratives, deep journalism, revealing interviews, and smart entertainment as varied and intimate as the human voice itself. For more information, visit wnycstudios.org.
ABOUT FUTURO STUDIOS
Futuro Studios is the podcast and original programming division of the Pulitzer Prize-winning Futuro Media Group, an independent nonprofit organization producing multimedia journalism that explores and gives a critical voice to the diversity of the American experience. Based in Harlem and founded in 2010 by award-winning journalist Maria Hinojosa, Futuro Media is committed to telling stories often overlooked by mainstream media. Since 2019, Futuro Studios has developed a slate of critically acclaimed podcast series, including the Pulitzer Prize-winning Suave with PRX, La Brega with WNYC Studios, Anything For Selena with WBUR, Norco 80 for LAist Studios, LOUD: The History of Reggaeton with Spotify Studios, The Battle of 187, a co-production with the Los Angeles Times, Radical Imagination hosted by Angela Glover Backwell in partnership with PolicyLink, and Con Todo: Brown Love in collaboration with Netflix. Futuro Media also produces the Peabody Award-winning show Latino USA, the In The Thick political podcast, the pioneering digital news outlet Latino Rebels, and Hinojosa's newest investigative journalism and special projects unit. More at futurostudios.org.
ABOUT THE ANDREW W. MELLON FOUNDATION 
The Andrew W. Mellon Foundation is the nation's largest supporter of the arts and humanities. Since 1969, the Foundation has been guided by its core belief that the humanities and arts are essential to human understanding. The Foundation believes that the arts and humanities are where we express our complex humanity, and that everyone deserves the beauty, transcendence, and freedom that can be found there. Through our grants, we seek to build just communities enriched by meaning and empowered by critical thinking, where ideas and imagination can thrive. Learn more at mellon.org.