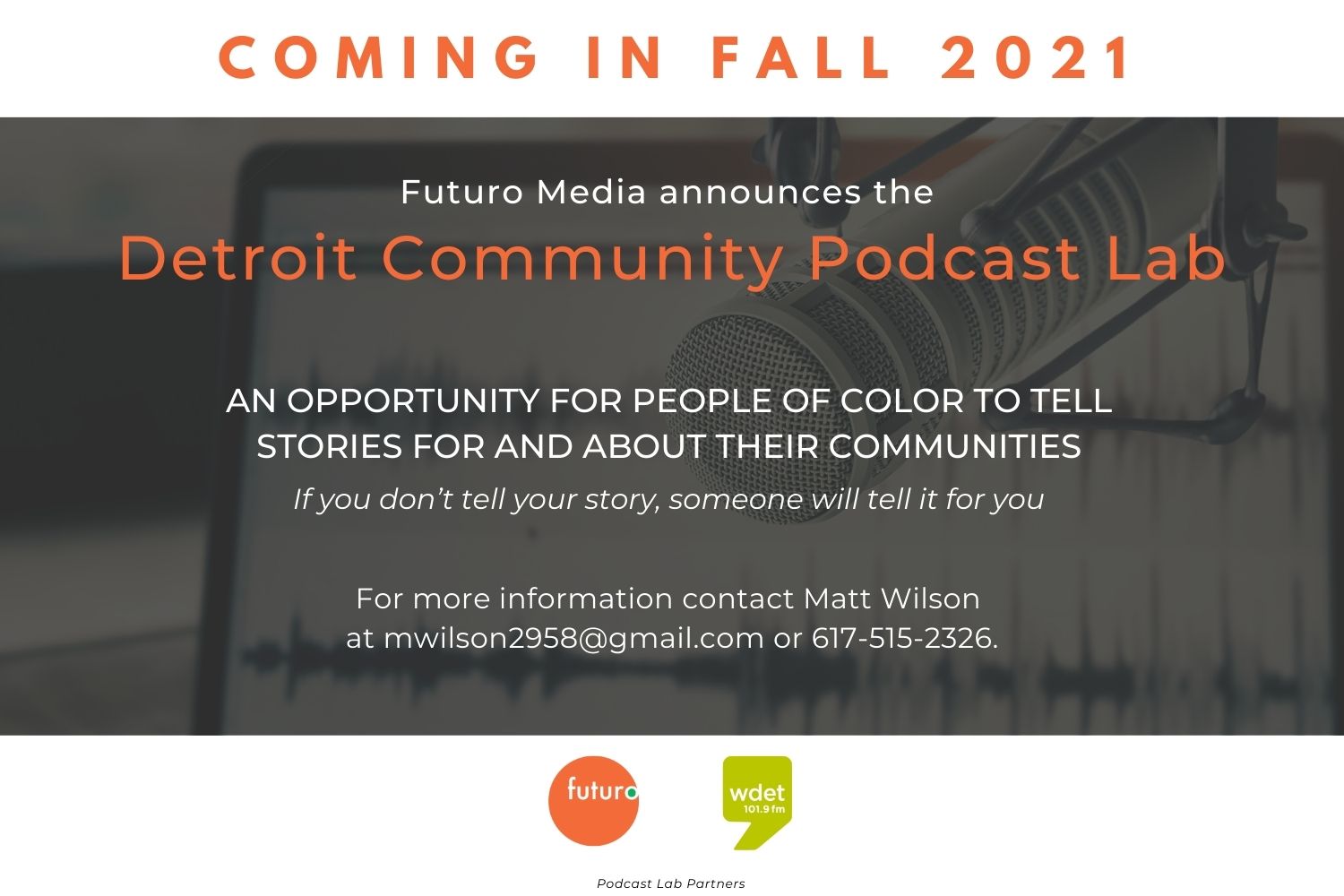 In keeping with its mission of fostering new and diverse journalistic talent, Futuro Media's Detroit Community Podcast Lab is dedicated to developing, piloting, producing, and distributing new audio projects by emerging BIPOC storytellers.
Partnering with WDET, Futuro Media brings this program to Detroit in the Fall of 2021 to help capture the untold stories from the neighborhoods of the city.
Futuro's Community Media Lab Project stands apart from other incubators in the depth of tutorials, information and skills acquired, duration of the course, the engagement of dedicated personnel and community organizations, and its attendance-based stipend for participants to ensure our course is accessible to all. We will select people with little to no prior experience in media from the diverse and underrepresented neighborhoods of Detroit. We will provide participants with the access, skills, and tools necessary to produce and broadcast their own stories and to contribute meaningful pieces of history and culture from the perspective of people of color to the rich narrative of Detroit life.
The Detroit Community Lab Participants
Nezaa Bandele is a poet, artist, and community chef, working to build a healthier Detroit through her cooking. Born in Jamaica, moved to Canada, and now living in Detroit, Momma Nezaa fuses different cultures and is excited to share her work and thoughts about food justice, health, and wellness through her podcast
Bryce Detroit is a performing artist, community organizer, and record producer. His Entertainment Justice work focuses on racial, economic, social, and environmental justice. Bryce is looking to the Podcast Lab as a new vehicle to broadcast his ideas to his audiences.
Arlyssa Heard is an education justice organizer at 482 Forward. She can't wait to get behind the microphone at the Podcast Lab as an opportunity to work with students and parents to build a new vehicle to broadcast creative, engaging and impactful stories and voices for change.
Saundra Little is an architect at Quinn Evans. Her work focuses on the revitalization of the urban buildings and public spaces to renew and lift up vulnerable communities. Her podcast will focus on the role and design that Black women architects play in the revitalization of American cities. 
Eladio Nino is a Youth Specialist at the Detroit Hispanic Development Corporation. In Southwest Detroit. He works with returning citizens, drawing from his 17 years as an incarcerated person. He looks forward to creating podcasts about real stories from his community.
Catalina Rios is a poet, author, and organizer who works for We the People Michigan. She looks forward to developing podcasts to highlight the work of artists who are uplifting their community through their creativity
David Rudolph lives on the West Side of Detroit and has been in the public relations business for 27 years. He's excited to dive into the Podcast Lab to speak for himself (not others) about the homeless recovery and mental health issues that many Black men in Detroit face.
Reda Taleb is a decarceration and healing justice advocate. She was born to Lebanese Muslim parents and focuses her work on Muslim women impacted by incarceration. Her podcasts will work to combat Islamophobia. 
Why Detroit?
Detroit has the highest percentage of Black residents in any large city in the U.S. The city in which Martin Luther King Jr. delivered his "I Have a Dream" speech for the first time and former home of Malcom X. It has a rich history in the civil rights movement, which continues to drive activism in the city today. From Motown to techno and everything in between, it is a cultural hub for Black creativity.
Metro Detroit includes large Latino, Southeast Asian and Middle Eastern communities. Dearborn, MI has the highest percentage of Arab Americans in the U.S. Storytelling and creative entrepreneurship are built into the region's cultural fabric, but opportunities for training and working in podcasting and media are limited, especially for communities of color.
For the Detroit Podcast Lab, Futuro is partnering with WDET, Detroit's NPR Station. WDET strives to be the authentic voice of Detroit, and thus, has been dedicated to opening the door to podcasting and public radio through its StoryMakers program, participation in the Detroit Podcast Festival and on-air programming.
Futuro Media is committed to bringing the Community Podcast Lab to Detroit to help capture and broadcast the city's underserved narratives, and to tell the world what makes the city tick.
For more information contact Matt Wilson at mwilson2958@gmail.com or 617-515-2326.