One Year After Uvalde, New Documentary Probes Guns, Grief & Texas Politics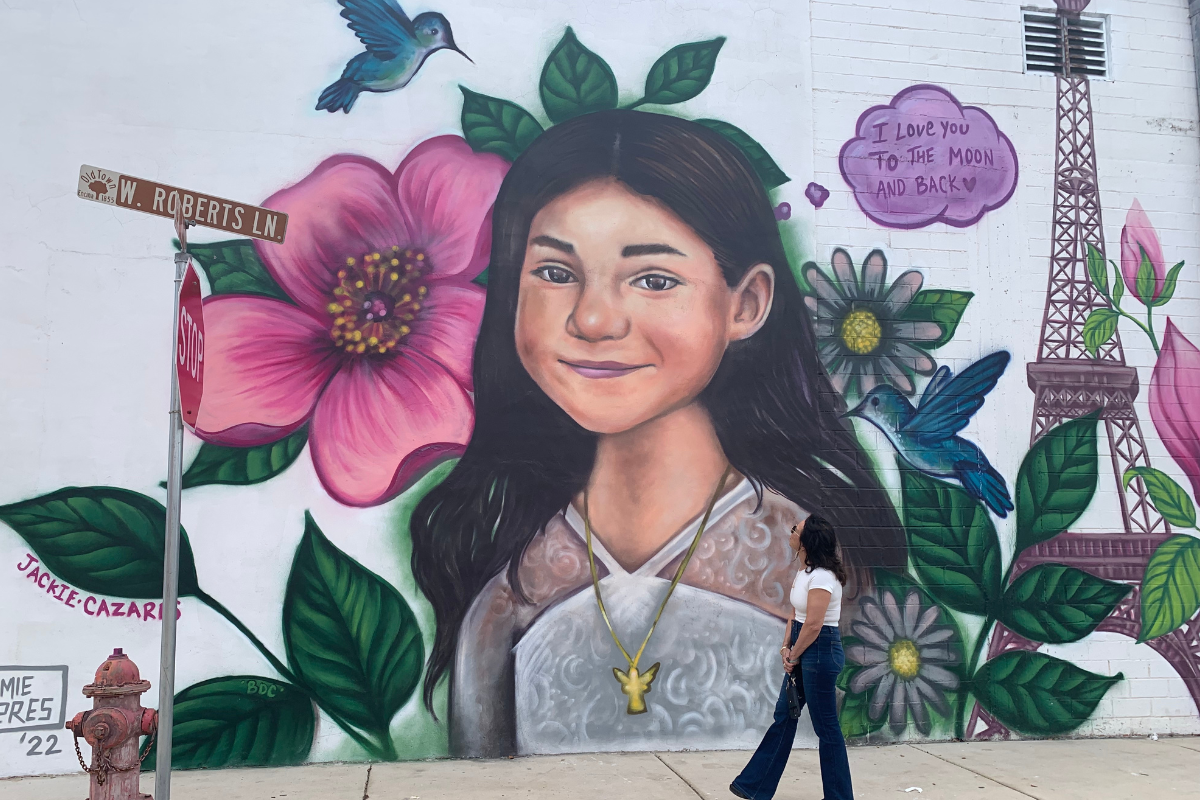 Acclaimed Journalist Maria Hinojosa Examines Aftermath of Deadliest School Shooting in Texas History
After Uvalde: Guns, Grief & Texas Politics
Tues., May 30, 2023
Streaming at 7/6c at pbs.org/frontline & in the PBS Video App
Airing at 10/9c on PBS and on YouTube
Watch Trailer
It was one of the deadliest school shootings in America: In May 2022, an 18-year-old legally bought two AR-style weapons, walked into his old fourth-grade classroom at Robb Elementary School in Uvalde, Texas, and opened fire in a massacre that killed 19 children and two adults. 
One year later, in a FRONTLINE documentary with Futuro Investigates and The Texas Tribune, Pulitzer Prize-winning journalist Maria Hinojosa probes lingering questions about why this tragedy happened and explores how some of the Robb Elementary school families have responded.
"For the last year, I haven't been able to stop thinking about these families and about Uvalde," Hinojosa says in the documentary, After Uvalde: Guns, Grief & Texas Politics. "I need to know: What does a place like Uvalde do after a horrific tragedy like this?"
Premiering Tues., May 30, 2023, on PBS and streaming platforms, After Uvalde: Guns, Grief & Texas Politics offers answers. The documentary tells the story of how some families have channeled their grief into a push to raise the purchase age of assault-style weapons in Texas from 18 to 21.
Hinojosa also explores the Robb Elementary school families' outrage over the police response, in which armed officers waited for more than an hour to take down the shooter. Gladys Gonzalez, whose daughter Caitlyne was at the school that day, says: "There's just a part of her that has become obsessed in wanting to understand what happened."
In collaboration with The Texas Tribune, whose reporters have reviewed hours of investigative footage from that day, Hinojosa explores the role of the shooter's AR-15 weapons in the police's hesitancy to confront him. The officers on the scene, Texas Tribune reporter Zach Despart tells her, knew their gear wouldn't protect them against an AR-15: "They are well aware that these types of rounds, because of their high velocity, will penetrate their normal body armor."
Dr. Roy Guerrero, Uvalde's only pediatrician, describes the horror of what he saw in the hospital after the shooting: "That's truly when I realize the caliber of what these weapons can do to a child's body," he tells Hinojosa. "So imagine a child who's decapitated. That's it. What else do I have to tell you?"
Through Hinojosa's reporting and interviews with politicians on both sides of the gun debate, the joint documentary illustrates how gun reform has been a deeply polarizing issue in Texas for decades, and how efforts to find common ground remain at a political standstill. 
One year after the Robb Elementary school tragedy, After Uvalde: Guns, Grief & Texas Politics is a profound and powerful look at where the fight over assault-style rifles stands in Texas, and a grieving community's efforts to heal.
FRONTLINE, Futuro Investigates, and The Texas Tribune's After Uvalde: Guns, Grief & Texas Politics airs Tuesday, May 30, 2023, at 10/9c on PBS stations (check local listings) and on FRONTLINE's YouTube channel. It will also be available to stream starting at 7/6c the night of its release at pbs.org/frontline and in the PBS Video App.
"We're proud to tell this complex story alongside our partners Futuro Investigates, The Texas Tribune, and Maria Hinojosa — whose reporting on the horrors of what happened in Uvalde and its lasting impact on the community has been critically important," says Raney Aronson-Rath, editor-in-chief and executive producer of FRONTLINE.
"The Texas Tribune has been deeply honored to collaborate with FRONTLINE and Futuro Investigates on coverage of the Uvalde tragedy. María Hinojosa and her colleagues have brought care, insight, empathy and understanding to the tragic story of what happened at Robb Elementary on May 24, 2022. Their work will stand as a testament to what went wrong and how our nation can and must do better," said Sewell Chan, editor-in-chief of The Texas Tribune.
"We have been thrilled to work on our partnership with the talented journalists of FRONTLINE and The Texas Tribune," said Peniley Ramírez, executive producer of Futuro Investigates. "Our diverse team deeply understands underreported issues affecting Latino communities. We produced a revealing, humane, and critically important story addressing the United States' key issues today: violence, guns, mental health and politics." 
Following the premiere of the joint investigation, on Friday, June 2, Futuro Media will air a special episode of the award-winning show Latino USA, partly based on the reporting for the documentary film. The podcast, "Uvalde Rising," will explore how Caitlyne Gonzales becomes a new leader in her community while the town of Uvalde fights for more mental health resources.
Credits
After Uvalde: Guns, Grief & Texas Politics is a FRONTLINE production with Futuro Investigates, the investigative unit of Futuro Media, in association with The Texas Tribune. The director is Amy Bucher. The producer and co-director is Heidi Burke. The writers are Amy Bucher and Heidi Burke. The correspondent is Maria Hinojosa. The documentary includes reporting from Texas Tribune reporters Uriel J. García, Jinitzail Hernández, Zach Despart and reporter for the ProPublica-Texas Tribune Investigative Initiative, Perla Trevizo. The editor-in-chief of The Texas Tribune is Sewell Chan. The executive producers of Futuro Investigates are Peniley Ramírez and Maria Hinojosa. The president of Futuro Media is Julio Ricardo Varela. The editor-in-chief and executive producer of FRONTLINE is Raney Aronson-Rath.
About FRONTLINE
FRONTLINE, U.S. television's longest-running investigative documentary series, explores the issues of our times through powerful storytelling. FRONTLINE has won every major journalism and broadcasting award, including 104 Emmy Awards and 31 Peabody Awards. Visit pbs.org/frontline and follow us on Twitter, Facebook, Instagram and YouTube to learn more. FRONTLINE is produced at GBH in Boston and is broadcast nationwide on PBS. Funding for FRONTLINE is provided through the support of PBS viewers and by the Corporation for Public Broadcasting. Additional support for FRONTLINE is provided by the Abrams Foundation, Park Foundation, the John D. and Catherine T. MacArthur Foundation, and the FRONTLINE Journalism Fund, with major support from Jon and Jo Ann Hagler on behalf of the Jon L. Hagler Foundation, and additional support from Koo and Patricia Yuen.

ABOUT FUTURO INVESTIGATES
Futuro Investigates is the investigative unit of the Pulitzer Prize-winning organization Futuro Media. It is the only investigative unit in the U.S. dedicated to reporting on issues that matter to Latinos, immigrants, refugees, and other underrepresented communities. Latina-founded and led by Maria Hinojosa and Emmy award winner Peniley Ramírez, Futuro Investigates is on a mission to create a new definition of investigative work, following the tradition of the best American journalism. The unit centers humanity along with data and field reporting that holds the powerful accountable while confronting challenges that communities face across the Americas. It is collaborative, multilingual, and multiplatform journalism that is urgent and needed. In 2023, the IRE Awards honored Futuro Investigates for the most outstanding audio journalism investigation of the year.
ABOUT THE TEXAS TRIBUNE
The Texas Tribune is the only member-supported, digital-first, nonpartisan media organization that informs Texans —and engages with them— about public policy, politics, government and statewide issues. The independent news organization has been dedicated to coverage of the Uvalde community, its resilience, and its future as well as holding officials accountable since the tragedy and examining policies and their implications.
FRONTLINE Press Contact:
FRONTLINE — Anne Husted frontlinemedia@wgbh.org  
Futuro Media – Raul Perez raul@futuromediagroup.org
The Texas Tribune – press@texastribune.org 
***