Futuro Media Partners With Lemonada Media to Launch "USA v. García Luna," an Investigative Podcast Series Exploring the War on Drugs and the Role Played by the DEA

The five-episode series is hosted by Maria Hinojosa and Peniley Ramírez
Episodes 1 and 2 will premiere on December 9th
Listen to the trailer HERE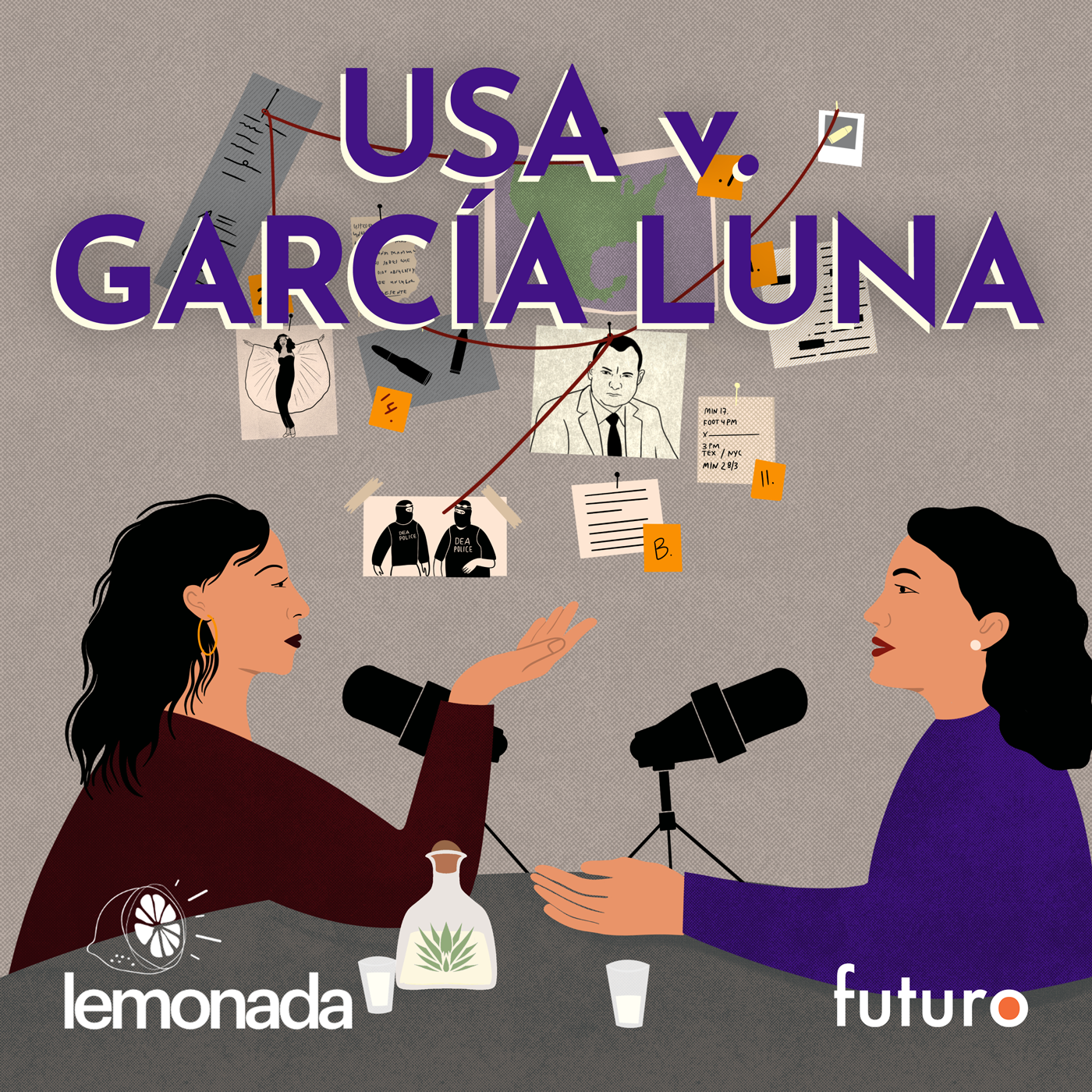 New York, December 5, 2022 — Futuro Media, in partnership with Lemonada Media, announced the new podcast series USA v. García Luna, launching December 9th. A story where true crime meets telenovela, this five-episode audio series is the first from the newly launched unit Futuro Investigates and was produced in collaboration with Latino USA. It is hosted by Maria Hinojosa and Peniley Ramírez, co-executive producers of investigations and special projects at Futuro. This is the first podcast series hosted by Hinojosa after winning the Pulitzer prize in 2022 for Suave.
Genaro García Luna, who for six years led the Secretary of Public Security in Mexico, was arrested in Texas in 2019. In January 2023, he will become the highest-ranking Mexican official ever to face trial in the United States. He's accused of receiving multimillion-dollar bribes from the Sinaloa drug cartel, in exchange for protecting drug lord Joaquín 'El Chapo' Guzmán. The case against García Luna is the first high-level trial in the U.S. derived from the trial versus El Chapo.
Before his arrest, García Luna worked closely with U.S. diplomats and intelligence agencies, and was considered the architect of the Mexican "war on drugs," which was funded by more than $3 billion of U.S. taxpayer money.
For a decade, Emmy Award-winning investigative journalist Ramírez followed García Luna under tremendous personal risk. Now, alongside audio legend and Pulitzer and Peabody Award-winner Hinojosa, Ramírez brings the saga of García Luna to audio—how he went from dreams of a career in professional soccer to becoming Mexico's most feared police boss.
"I have enough experience to know that when my journalist gut tells me there's an amazing story, you have to trust it. García Luna is an almost unbelievable, but true story that unlocks high levels of corruption not only in Mexico but right here in the United States," Hinojosa said. "This is not a story about narcos. This is a story about deep power and how both of our countries have huge challenges when it comes to an interminable war."
The series tackles cases of corruption in the DEA and includes testimonies from former DEA agents who speak about witnessed corruption in the agency and lack of accountability from the U.S. government to investigate itself.

"We are not just telling the story of a Mexican politician. We are deeply questioning how U.S. money funds the so-called war on drugs and how Washington picks their allies," Ramírez said. "I'm glad that Maria and I get personal in this series, that we are telling a pretty serious story in a unique way and are sharing our views about why investigative journalism matters today."

"We are so pleased to partner with Futuro to help amplify this important story," Jessica Cordova Kramer, CEO of Lemonada Media, said. "Futuro's quality journalism, coupled with its commitment to illuminating important stories, is a passion we share at Lemonada, and being able to draw attention to the context and background of this historic case alongside Futuro is a gift."
The first two episodes of USA v. García Luna will be available on all podcast platforms on Friday, December 9th. Subscribe to listen here.
***
About Futuro Unidad Hinojosa:
Futuro Unidad Hinojosa is the investigative and special projects division of the Pulitzer Award-winning organization Futuro Media, led by Maria Hinojosa and Peniley Ramírez. Founded in 2020, this entrepreneurial division enhances Hinojosa's legacy of human and in-depth reporting for television and audio. This division develops highly creative multimedia projects and original programming alongside new specialized investigative and data analysis techniques that Ramírez has developed as an investigative correspondent for major news media outlets. Within this division, Futuro Investigates is the only investigative unit in the United States dedicated primarily to Latino and other communities of color, reporting in both English and Spanish.
Follow Futuro Investigates on all of its social media channels: 
Twitter @fuhinvestigates
Tiktok @futuroinvestigates
Instagram @futuroinvestigates
About Futuro Media: 
Winner of a Pulitzer Prize in 2022, Futuro Media is an independent, nonprofit organization producing multimedia journalism that explores and gives a critical voice to the diversity of the American experience. Founded in 2010 by Pulitzer Award-winning journalist Maria Hinojosa and based in Harlem, NY, Futuro Media is committed to telling stories from points of view often overlooked by mainstream media. Futuro Media produces Peabody Award-winning Latino USA, the longest-running national Latino news and cultural public radio program; In The Thick, a politics podcast from the perspective of journalists and issue experts; Latino Rebels, a pioneering digital news outlet founded by Julio Ricardo Varela that reaches millions through its website and podcast; Futuro Studios, which focuses on original podcasts and programming; and Futuro Unidad Hinojosa, dedicated to investigative journalism and special projects.
About Lemonada Media
Founded in 2019 by Jessica Cordova Kramer and Stephanie Wittels Wachs, Lemonada is an award-winning, independent, audio-first podcast network, with a mission to make life suck less. In 2022, both Cordova Kramer and Wittels Wachs were named among the 'Top 50 Most Powerful People in Podcasting' by Podcast News Daily and Inside Radio. The company is also the creator of the audio reality™ podcast genre, and launched BEING Studios, where reality TV meets podcasting. Lemonada has created hit series including Gracie Award-winners Last Day and Believe Her, Raised by Ricki with Ricki Lake and Kalen Allen, as well as Webby Award-winners In the Bubble with Andy Slavitt, Add to Cart with Kulap Vilaysack & SuChin Pak and The Untold Story with Jay Ellis. Lemonada also co-produced and distributed The Letter, which launched to #1 overall on the Apple Podcast charts. Lemonada's roster of guests has included an array of luminaries from across the entertainment, media, politics and science worlds. For more information on Lemonada and its podcasts, please visit www.lemonadamedia.com. 
About Maria Hinojosa
As a reporter who was the first Latina in many newsrooms, Maria Hinojosa dreamt of a space where she could create independent, multimedia journalism that explores and gives a critical voice to the diverse American experience. In the early parts of her career it was simply that a dream. When she began as a reporter for NPR, Hinojosa was among the first to report on youth violence in urban communities on a national scale. During her eight years as CNN's urban affairs correspondent, Hinojosa often took viewers into communities rarely shown on television and continued that work longform on Now on PBS. Additionally, Hinojosa was the first Latina to anchor a PBS FRONTLINE report: "Lost in Detention" which aired in October 2011 and was the first to explore abuse at immigrant detention facilities, garnering attention from Capitol Hill as well as both the mainstream and Spanish-language media. 
After Hinojosa's nearly 30-year career as an award-winning journalist which included reporting for PBS, CBS, WNBC, CNN, NPR, and anchoring the Emmy Award-winning talk show from WGBH Maria Hinojosa: One-on-One, she was able to make her dream of an independent, Latina-lead newsroom a reality. In 2010, she launched Futuro Media, an independent, nonprofit newsroom based in Harlem, NYC with the mission to create multimedia content from a POC perspective. 
Futuro is the home of Latino USA, the longest-running Latino American podcast in the world, In The Thick, which, as Maria says, is a direct response to Meet the Press from a POC view, and news site Latino Rebels. Futuro is also home to Futuro Studios, a podcast creation unit with shows such as LOUD, La Brega, and The Sum of US. As well as the brand new, Latina-led investigative unit Futuro Investigates. 
In 2019, Maria became the inaugural Journalist in Residence at her alma mater Barnard College. She is the author of four books, Crews, Raising Raul, Once I Was: A Memoir of Love and Hate in a Torn America, including its Young Adult version. She has won Emmys, The John Chancellor Award, multiple Robert F. Kennedy Awards, and Overseas Press Club Award, and most recently, a Pulitzer Prize for her 30-year-long reporting podcast series Suave. 
She lives in New York City with her husband, their puppy Benito, and cats, Miko and Safiya. 
About Peniley Ramírez
Peniley Ramírez is a Cuban-Mexican, Emmy Award-winning, multimedia investigative journalist, columnist, and author. She is the Executive Producer of Futuro Investigates and Special Projects at Futuro Media. Before joining Futuro, she worked as an investigative correspondent for Univision. Her reporting has led to several official investigations of politicians and business people in Latin America and the United States. 
She has been part of global investigative projects, such as the Pulitzer Award-winning "Panama Papers" and the Scripps Howard Award-winning "Pandora Papers," with the International Consortium of Investigative Journalists. After six nominations since 2016, Ramírez was awarded an Emmy for Outstanding Investigative Journalism in Spanish in 2022, for revealing a system of sexual abuses against members of megachurch La Luz del Mundo. She was also awarded a Sigma Delta Chi Award from the Society of Professional Journalists for Spanish-language investigative reporting. 
In 2021, she was awarded a Scripps Howard Foundation's Jack R. Howard Fellowship in International Journalism and a Carlos M. Castaneda Journalism Scholarship to study at Columbia University, where she graduated with a Master of Arts in Business and Economics Journalism. She is passionate about mentoring investigative journalists and empowering women and people of color in journalism. 
***