Episode 1 — Why Can't We Have Nice Things?
As president of a national think tank, Heather McGhee thought that the most important change came out of Washington. But as the years passed and she saw the limitations of the law to make real change, she started wondering: Why can't we all have nice things in this country? Like good schools, jobs and healthcare? 
In the first episode of the season, we'll meet Heather as she takes to the road to try and find answers. And she finds her first clue in an unlikely place: a drained public pool. 
Episode 2 — Memphis, TN: The Sweetest Water In The World 
In 2020, Memphis residents began to hear rumors that a company called Plains All American was set to build a 49-mile oil pipeline through the city. At first, the pipeline appeared inevitable, planned to run through a "sacrifice zone" of all-Black neighborhoods that had already been poisoned by nearby heavy industry. But when local environmentalists discovered the pipeline would threaten Memphis' prized drinking water, they joined forces with a charismatic 26-year-old, Justin Pearson, to build a multi-racial coalition that united Black and white neighborhoods in this segregated city to protect their hometown's treasured water. 
Episode 3 — Orlando, FL: The Land of Second Chances
Republican Congressional aide Neil Volz was convicted for conspiring to bribe members of Congress. Desmond Meade was a Black military veteran who fell into addiction, homelessness and prison. As people with a felony record, they were both stripped of their vote in the state of Florida. A chance encounter led to Desmond recruiting Neil, a white conservative, to join his audacious campaign to overturn the Jim Crow era felony voting ban. Their shared belief in second chances formed the basis of an unlikely friendship—and that friendship was one of the secret weapons in a broad multiracial, cross-partisan coalition that unleashed one of the largest expansions of voting rights in US history.
Episode 4 — Kansas City, MO: Flipping Burgers
Terrence Wise was a Black man flipping burgers at a McDonald's in Kansas City, Missouri. Bridget Hughes was a white woman punching the clock at a local Burger King. Neither saw a way out of their dead-end jobs until they teamed up to join the movement for a living wage. These improbable modern-day labor leaders share the story of their friendship and how they came to see racism as the common enemy in the battle against poverty in America.
Episode 5 — Lewiston, ME: A New Crop
Third generation dairy farmer Charlie Hilliard spent his life working the land that had been in his family since the 1930s. But with retirement looming, it seemed impossible to find a buyer who would be willing to preserve the land that he grew up with. Then he met Muhidin Libah, a refugee from the local Somali Bantu community, who, along with nearly 200 Somali farmers and supportive Mainers, are betting it all on a new model for the future of local farming.
Episode 6 — Minden, NV: The Last Sundown Siren
In 1921, the small town of Minden, Nevada began sounding a "sundown siren" to warn Indigenous people to leave the city limits or face violent consequences. Over a hundred years later, the alarm still blares daily. Why? It depends on who you ask. In a town full of historic markers, there's nothing about the Indigenous history; local officials now say the siren is a tribute to first responders. Marty Meeden, a member of the local Washoe Tribe, had fought to end this traumatic daily reminder to no avail—until he met a pair of unlikely allies: a passionate white bicyclist and a teenage all-star runner. Together, they are working to silence the sundown siren forever, and show how remembering our history can help us all heal.
Episode 7 — Dallas, TX to Albuquerque, NM: A Journey of Faith for Reproductive Rights
A primary care physician and former Pentecostal preacher, Dr. Curtis Boyd hadn't planned on being an abortion provider—until the late 1960s, when ministers and rabbis from Texas reached out and asked him to be their trusted doctor. At 86, he is still at it. Heather visits his clinic in a story that uncovers the hidden history of how faith leaders were a linchpin of abortion access before Roe v. Wade, and how attacks on abortion rights have led to the revival of an underground clergy network today. Now, thanks to the tireless work of a cross-racial coalition of activists, clergy and religious volunteers are once again escorting women to obtain safe, legal abortions in New Mexico.
Episode 8 — Manhattan Beach, CA: Swimming Together
The wealthy beachfront community of Manhattan Beach, California —known for its surf culture— has a Black population of less than 1%. You'd never know that a Black couple was one of its founding families. In the early 1900s, the city government seized a thriving Black-owned beach resort after pressure from white residents and the Ku Klux Klan. Today, activists have won the return of the beach to the Bruce family in the first-known case of land reparations for Black people in the US. Now, the whole community is confronting the reality of what it lost when it destroyed a Black beach paradise and redefining who gains when reparations become a reality.
Episode 9 — The America That's Becoming
As Heather's journey across America ends, she meets with the person who sparked her lifelong commitment to social justice. They discuss the cross-racial experiences that shaped their paths early on, and Heather reflects on the most important lessons she learned from the folks she met on the road.
***
Heather McGhee's travel diary about the surprising cross-cultural connections that are rebuilding the American community, from rural Maine to the California coast and everywhere in between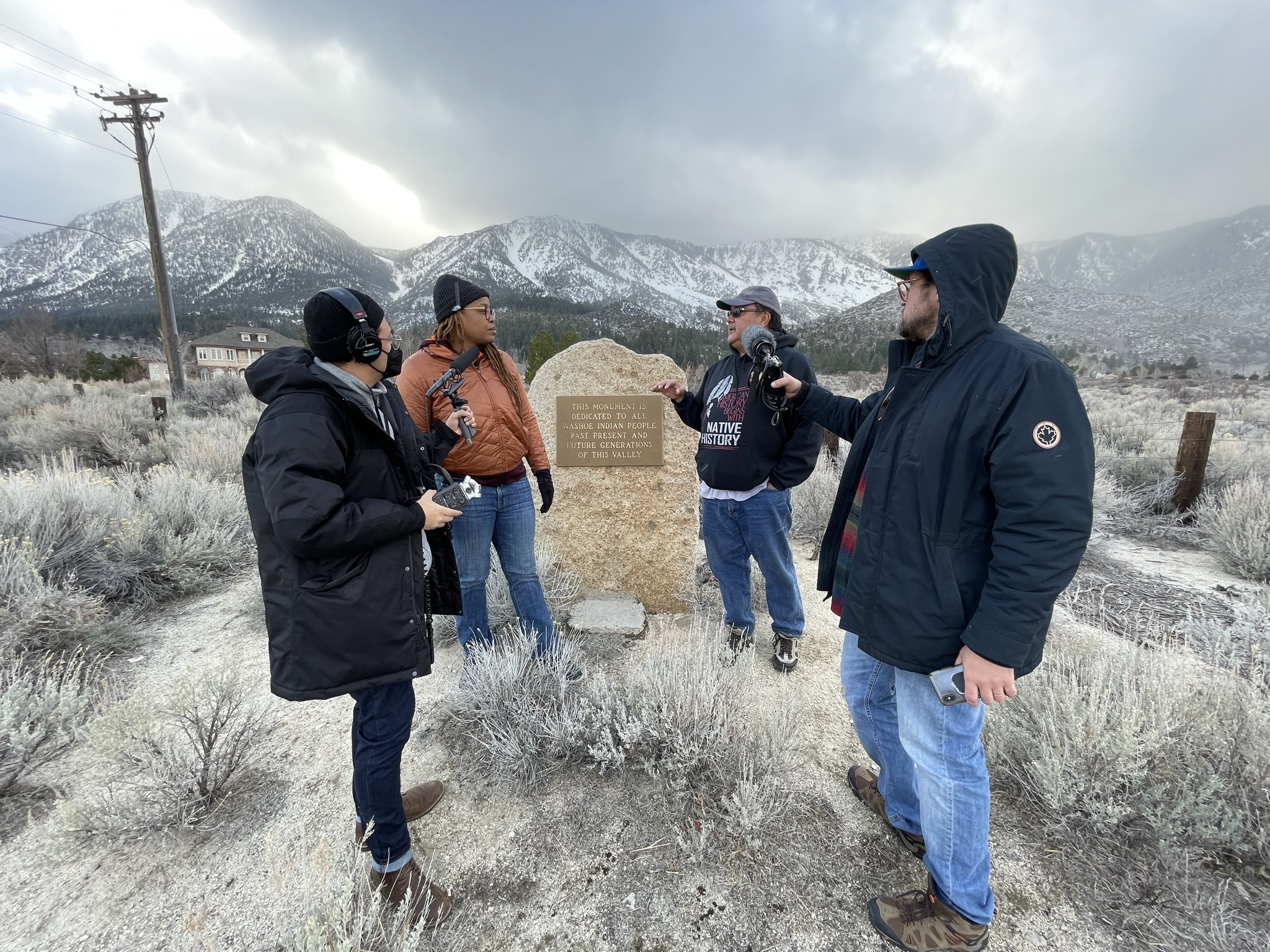 About
A longtime advocate and policy expert with unrivaled empathy and talent for speaking to folks from all walks of life, Heather McGhee approaches our divided country the way Anthony Bourdain treated the world. 
Over nine episodes, we'll follow her as she travels from rural Maine to the California coast and everywhere in between, unspooling stories of extraordinary Americans who are crossing demographic, cultural, and political lines to build a better future for all of us. 
Introducing: The Sum of Us
On the heels of her bestselling book, Heather McGhee embarks on a road trip across Covid-era America, unearthing stories of American hope and solidarity in a time of great division and peril for our democracy. Join Heather on her journey —from rural Maine to the coast of California and everywhere in between— as she meets extraordinary Americans who are crossing demographic, cultural and political lines to build a better future for all of us. 
***
Meet the Team 
Host and Creator: Heather McGhee 
Original Music and Theme Song by: Thee Sacred Souls 
Editors: Sandy Rattley and Maria Garcia 
Senior Producers: Nicole Rothwell, Jeanne Montalvo, and Fernanda Echavarri
Producers: Cassim Shepard, Ryan Kailath, Emilce Quiroz, Joaquín Cotler and Juan Diego Ramirez, with help from Liliana Ruiz, Sophia Lo, Susanna Kemp and Alissa Vladimir  
Mix Engineers: Stephanie Lebow and Julia Caruso 
Researchers: Lynn Kanter and Carolyn Lipka 
Executive Producer for Futuro Studios: Marlon Bishop 
Executive Producers for Higher Ground: Mukta Mohan, Dan Fierman, Anna Holmes, and Janae Marable 
Editorial Assistant for Higher Ground: Jenna Levin 
Executive Producers for Spotify: Daniel Ek, Dawn Ostroff, Julie McNamara and Corinne Gilliard