The We Imagine…Us Project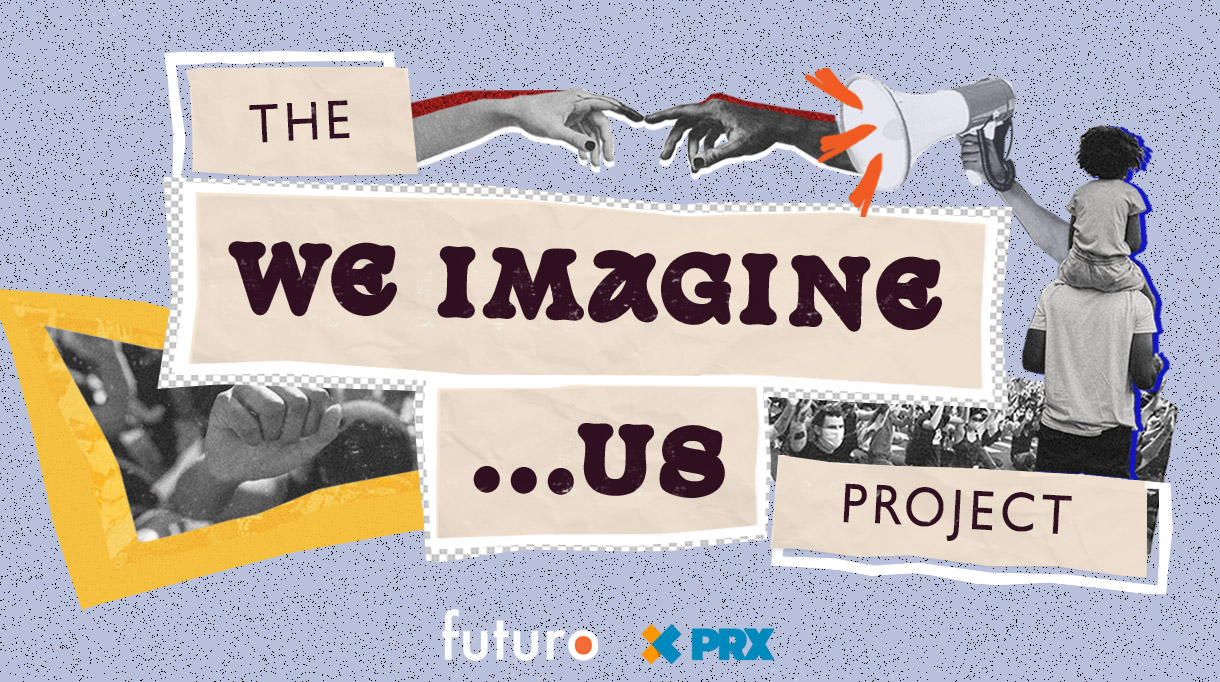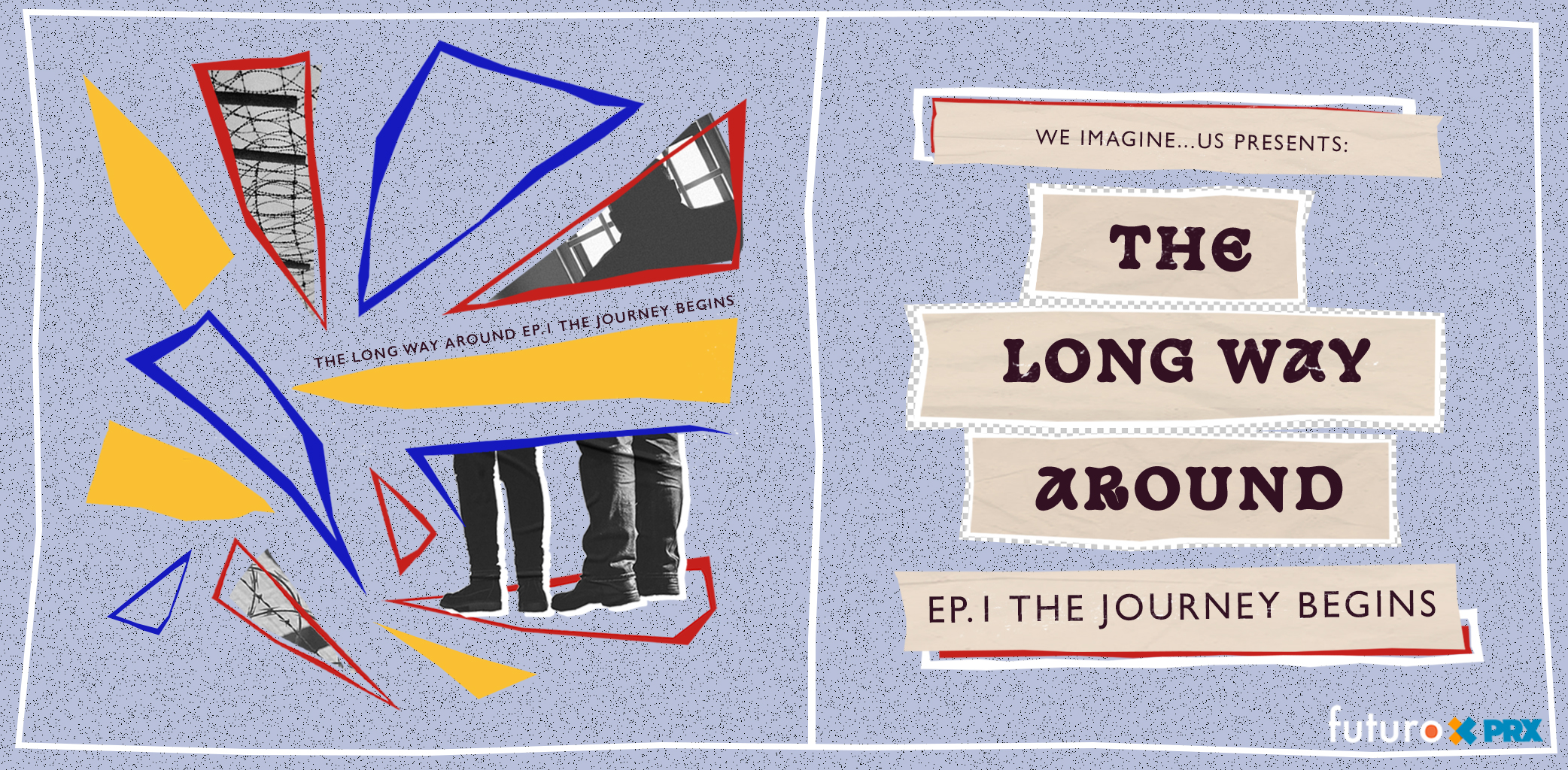 After serving three years for a white-collar crime, Albert "Bumpy" Watkins is released into a post-Covid America, where he must navigate his new status as a formerly incarcerated person and his new role as a single parent to teenager Mercy Watkins.
Re-Imagination Nation: Episode 1, La June Montgomery Tabron, Linda Sarsour and Ava DuVernay 

In this episode, we explore the importance of imagination and solidarity. First, we speak with the creator of SCoRE (Solidarity Council on Racial Equity), La June Montgomery Tabron, who reimagines how we can work together to create a world that is truly equitable for all. Then, Maria is joined by SCoRE members Linda Sarsour and award-winning film director Ava DuVernay, who explain their vision for a more just world and the work they are doing to make change happen.
The Long Way Around: Episode 2, Re-Acquaintance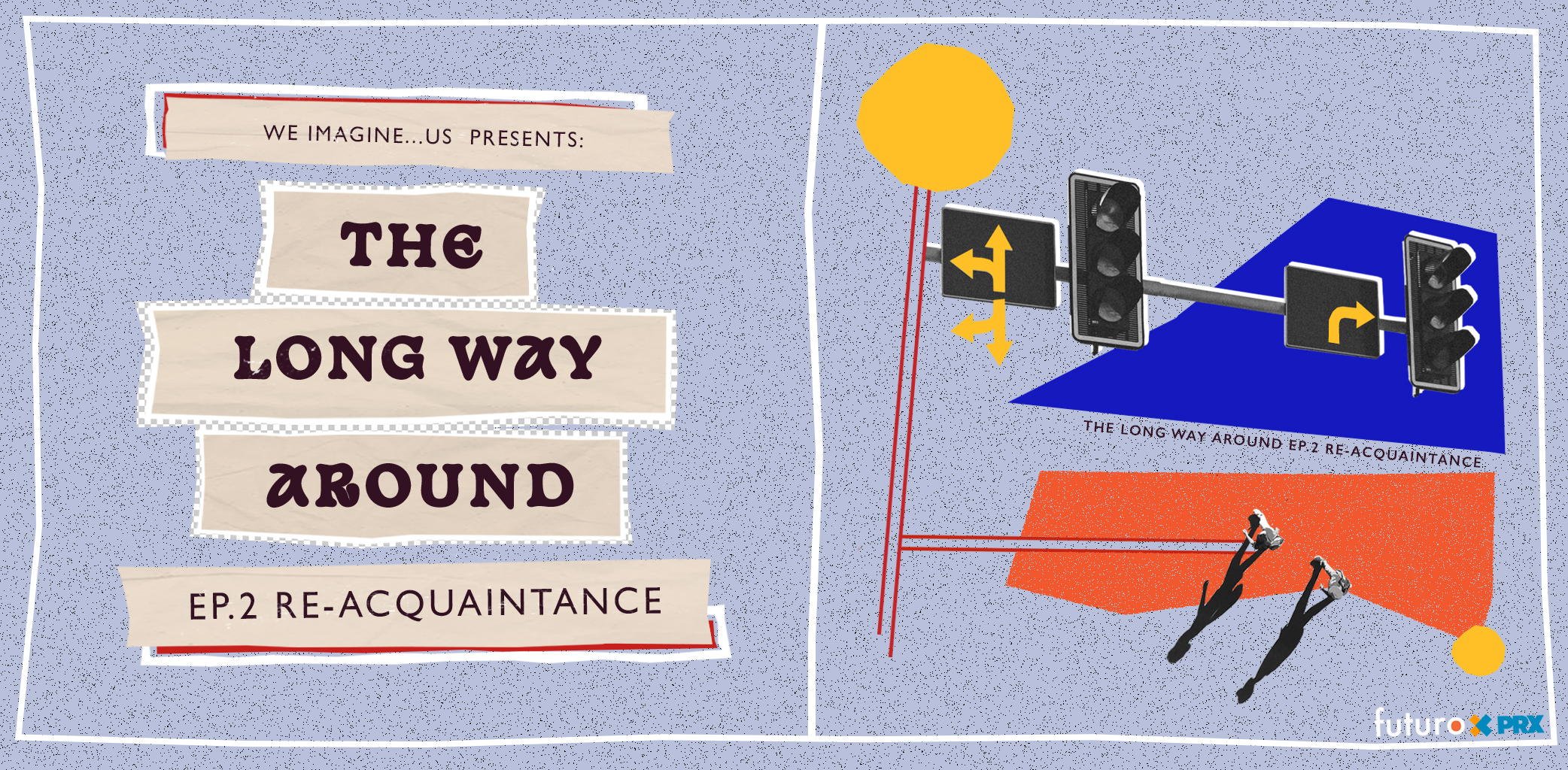 Feeling that Galveston, Texas is the wrong place for a Black man and his biracial daughter, Bumpy and Mercy begin their journey north to Minnesota via a long-haul train ride. However, navigating their new relationship is proving almost as difficult as traveling.
Re-Imagination Nation: Episode 2, Heather McGhee, Manuel Pastor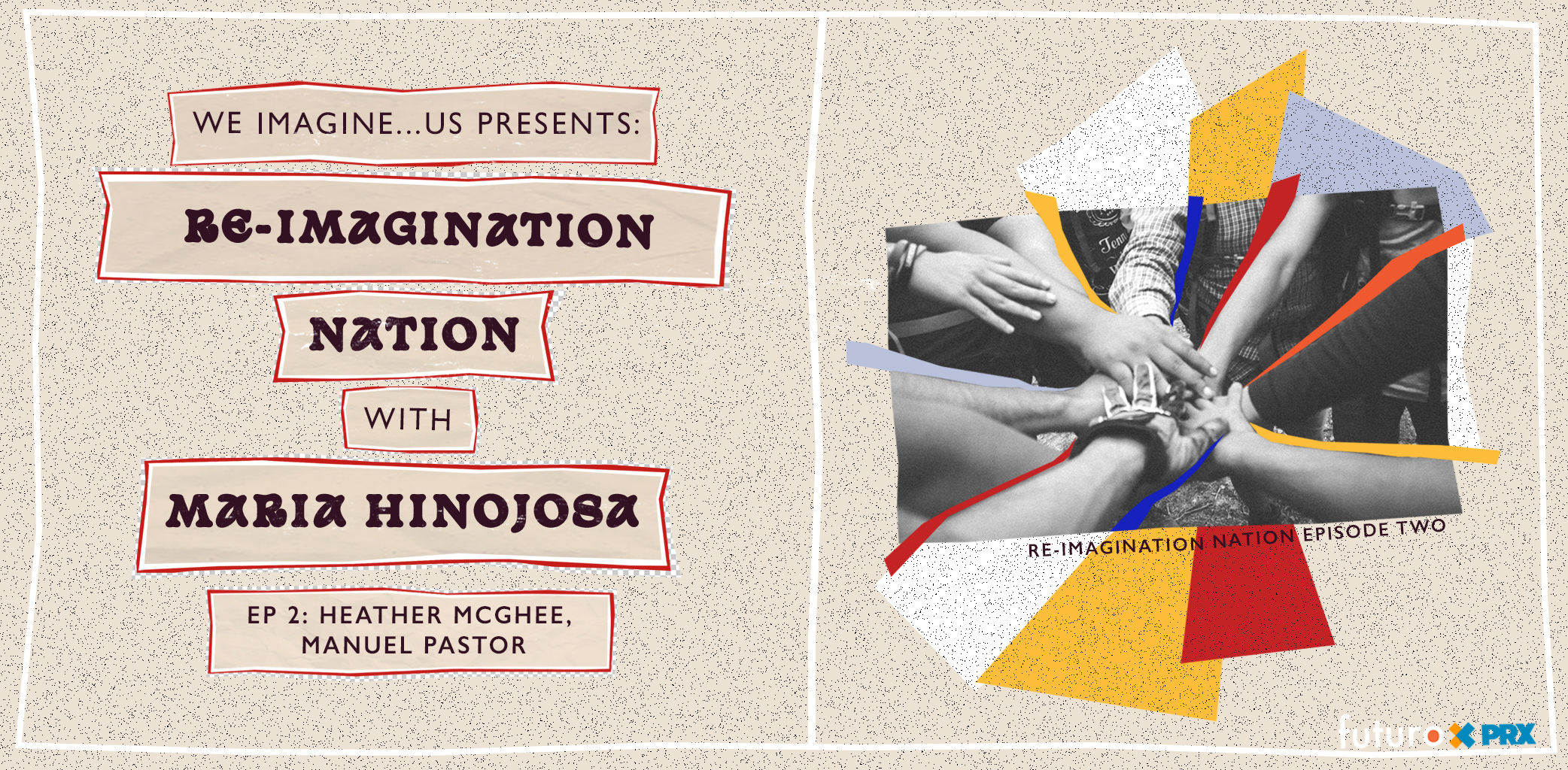 In our second episode, we learn about solidarity economics with members of SCoRE (Solidarity Council on Racial Equity). Author Heather McGhee talks with Maria about her cross-country journey challenging zero-sum game ideas that progress for some must come at the expense of others. Then, sociology professor Manuel Pastor discusses models for a more inclusive economy designed so that we can all prosper together.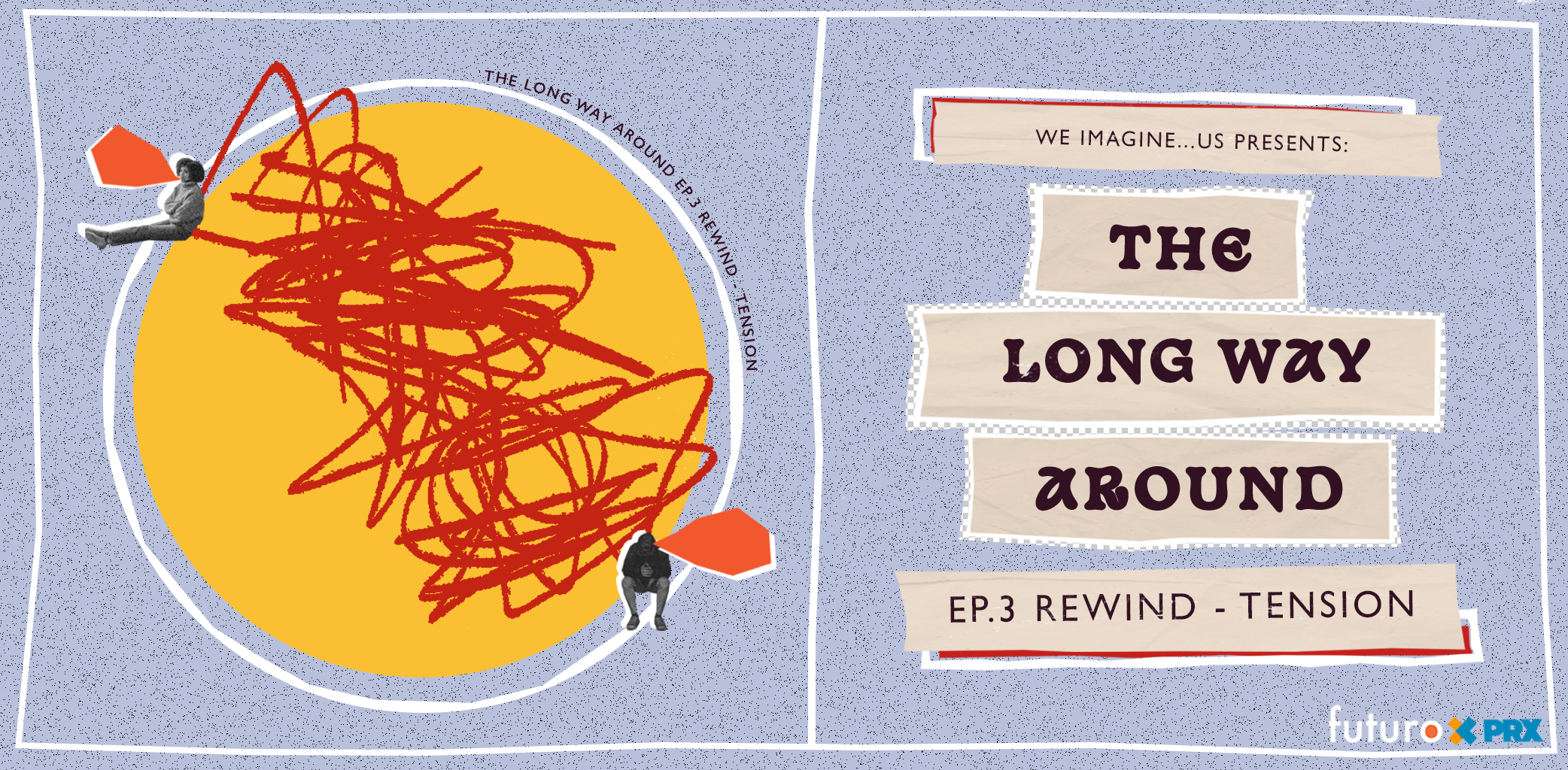 Tensions are high as Bumpy and Mercy realize that their three-years apart while Bumpy was in prison pose a bigger obstacle than either anticipated. Their father-daughter bond is further tested when a passenger questions their relationship to each other.
Re-Imagination Nation: Episode 3, Saru Jayaraman and Kent Wong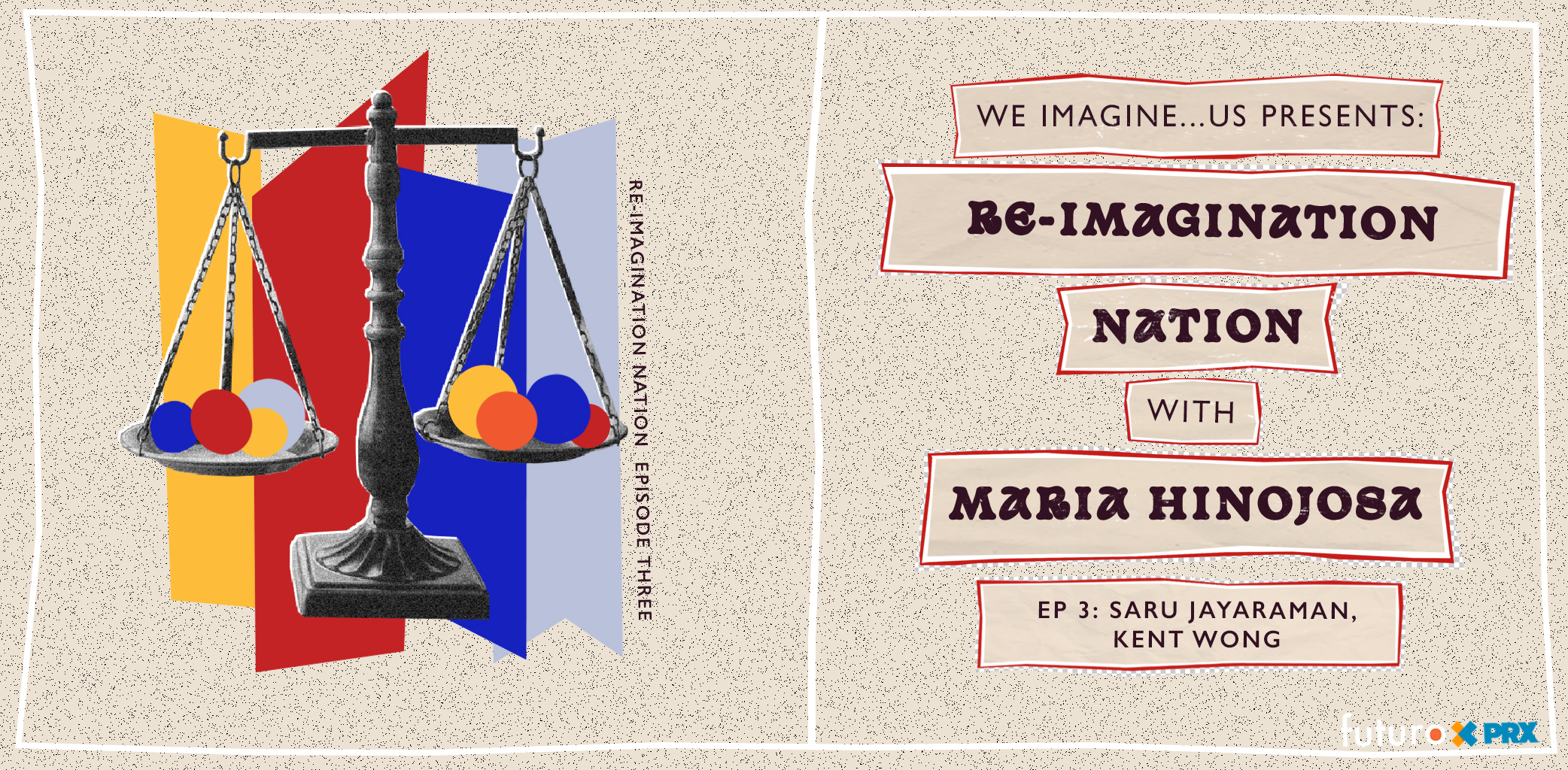 In this episode, we hear insights from the frontlines of labor reform with two members of SCoRE (Solidarity Council on Racial Equity). First, a close look at restaurant work—essential but undervalued. Author Saru Jayaraman details efforts to bring the dignity of recognition and fair wages to all workers. Then, Kent Wong of the UCLA Labor Center reveals how an empowered generation of documented and undocumented youth are reimagining an entirely new immigration system.
The Long Way Around: Episode 4, Rebound/Re-bond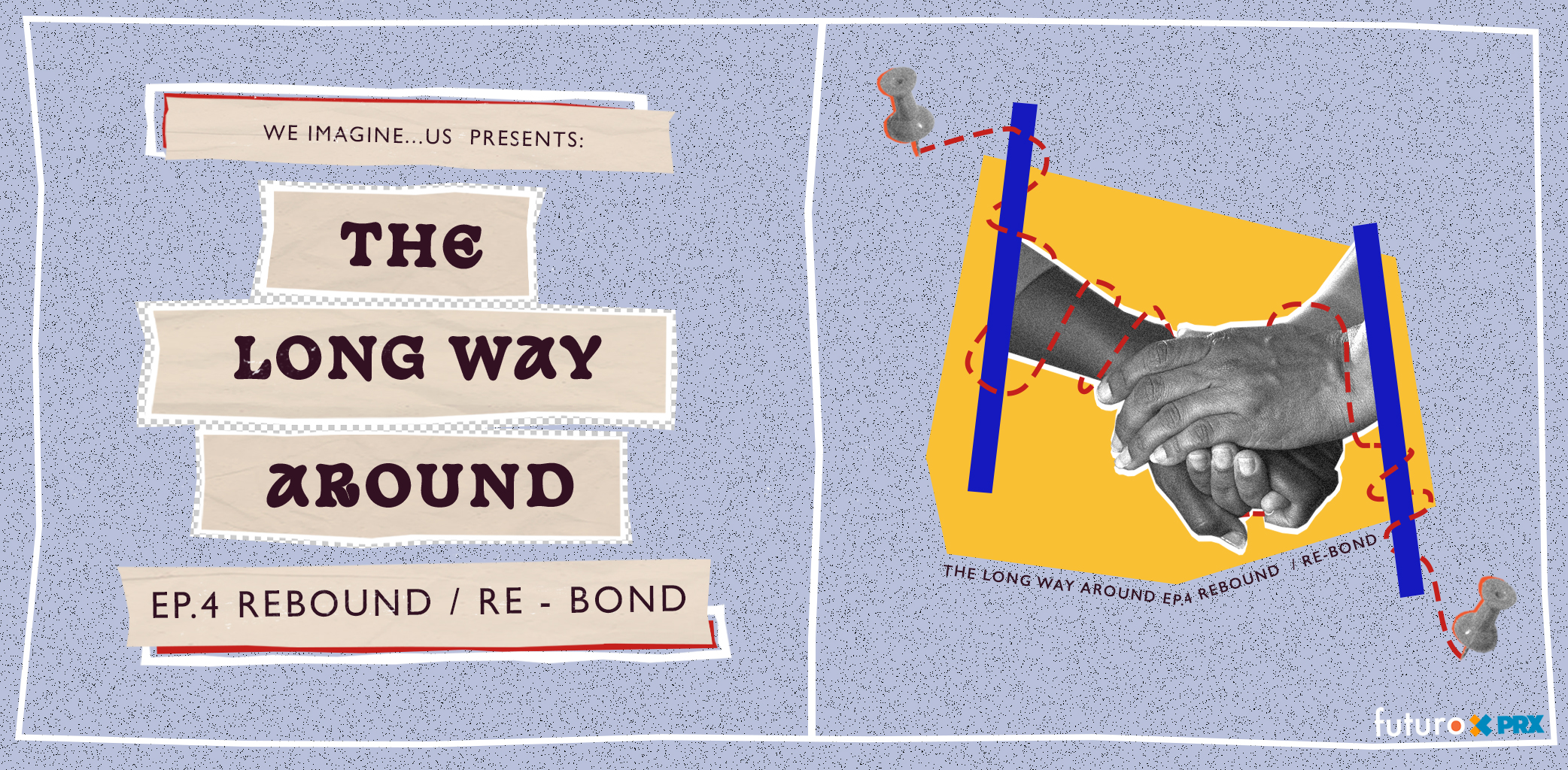 With the altercation with the cops binding them to each other in a whole new way, Mercy and Bumpy explore New Orleans and Memphis while trying to decide where to settle in Minnesota. They've almost reached a decision when an accident derails their plans.
Re-Imagination Nation: Episode 4, Jerry Tello and Mayra Santos-Febres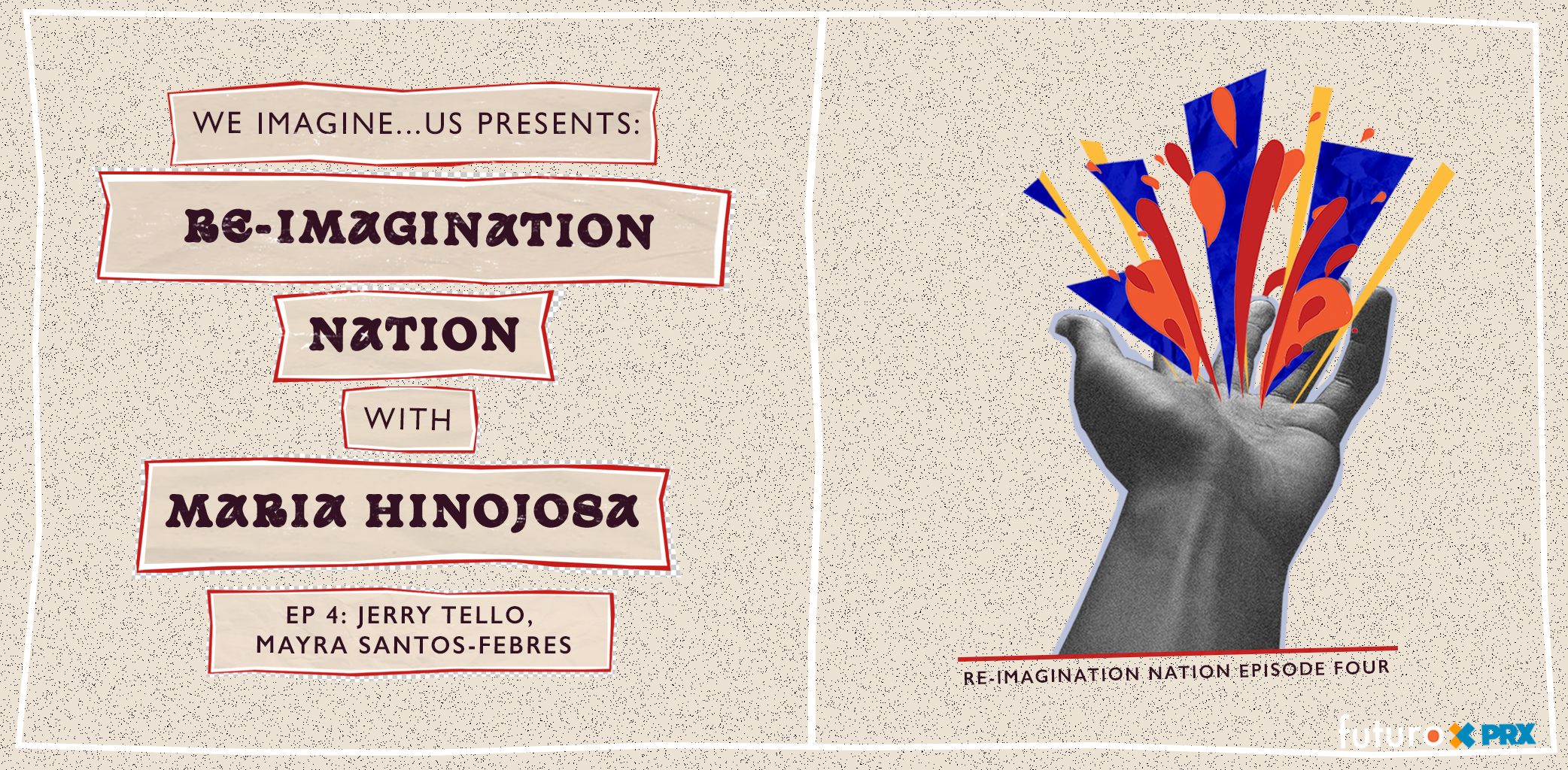 Our fourth episode shines a light on the work of transformational healing that members of SCoRE (Solidarity Council on Racial Equity) are accomplishing in their communities. National Compadres Network co-founder Jerry Tello puts a focus on culturally-based wisdom in addressing mental and emotional health. Then, Puerto Rican writer and activist Mayra Santos-Febres tells how the courageous creativity of Black and Indigenous resistance is reshaping our world and shares her own vision of a life-affirming future.
The Long Way Around: Episode 5, Repair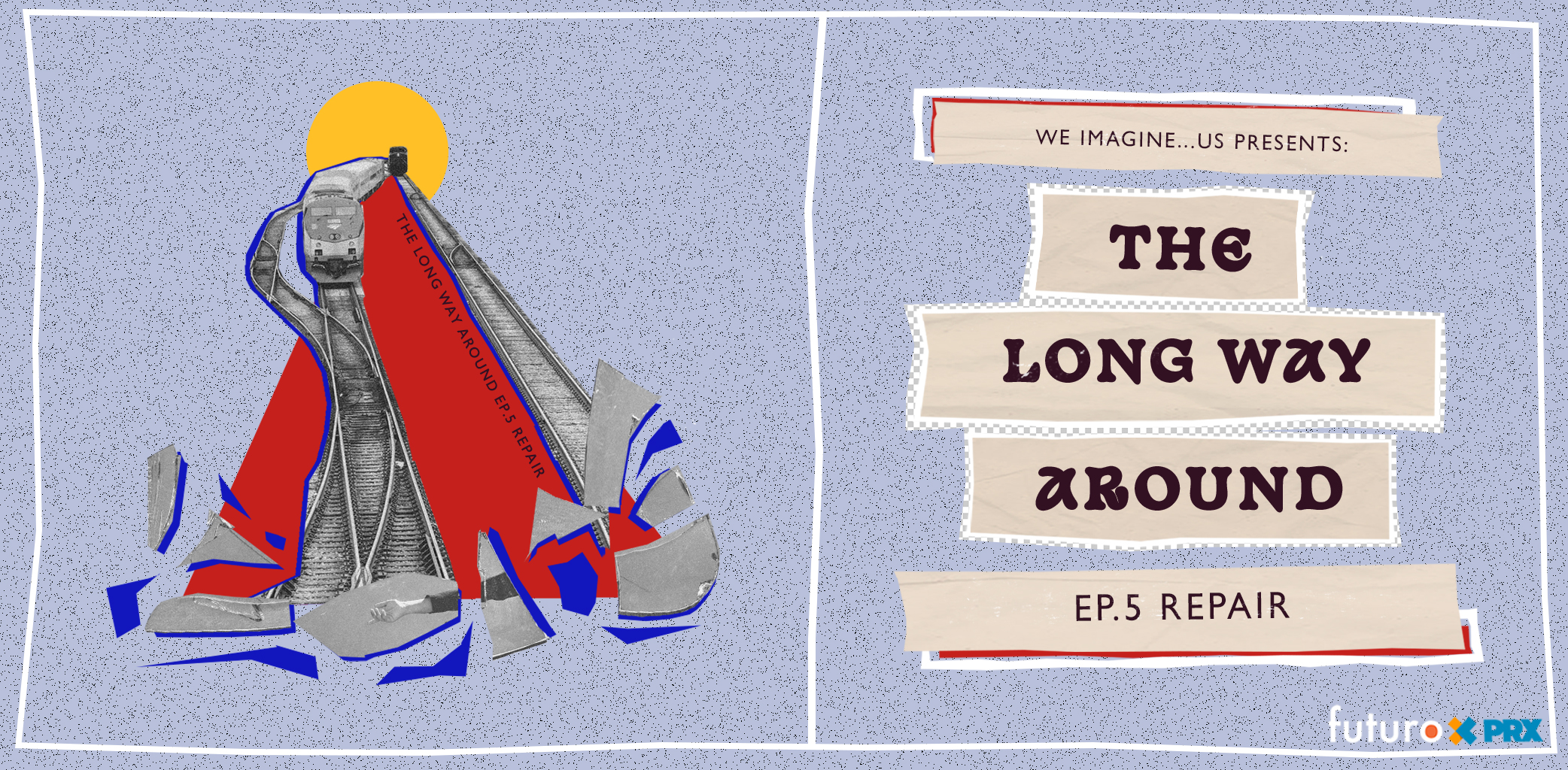 Stranded in Illinois, Bumpy and Mercy's situation begins to unravel. As the father and daughter debate their next steps —as well as speak with other passengers about the future— a road forward seems even more uncertain than ever.
Re-Imagination Nation: Episode 5, David Williams and john a. powell
In this episode, we look for examples of repairing from racial harm as members of SCoRE (Solidarity Council on Racial Equity) describe action plans communities have used to tackle inequality. Public health scholar David Williams has measured how racism makes people physically sick and explains how access to opportunity leads to thriving communities. Plus, law professor john a. powell says that when it comes to belonging, our choices will determine the society that we all must share.
The Long Way Around: Episode 6, Renew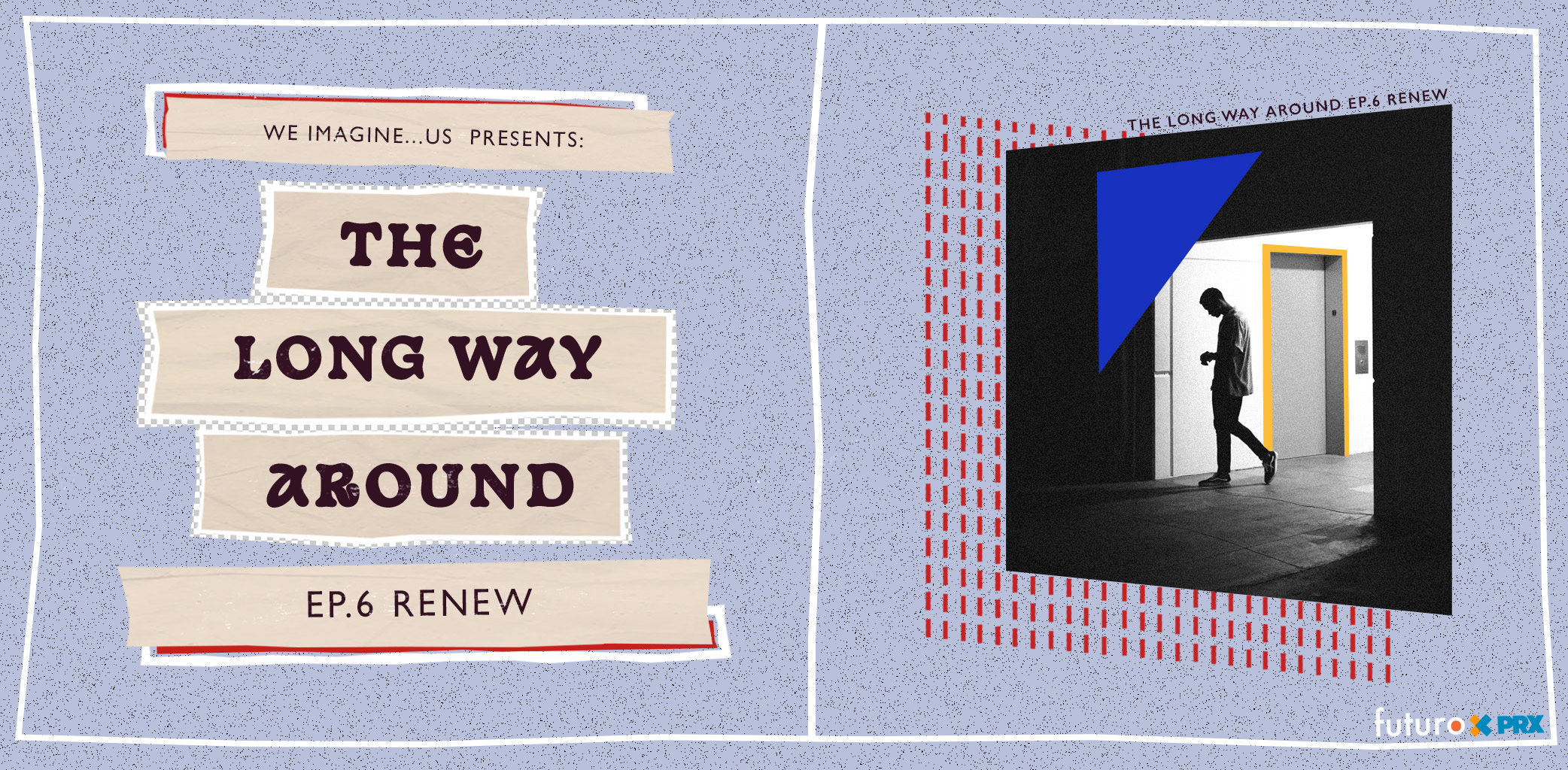 Bumpy and Mercy finally make up their minds about where they want to settle in Minnesota and rebuild their lives. However, a late-night party, Bumpy's lingering health issues, a well-meaning neighbor and overzealous cops all combine to challenge the fragile future they have built.
Re-Imagination Nation: Episode 6, John Legend and Michelle Alexander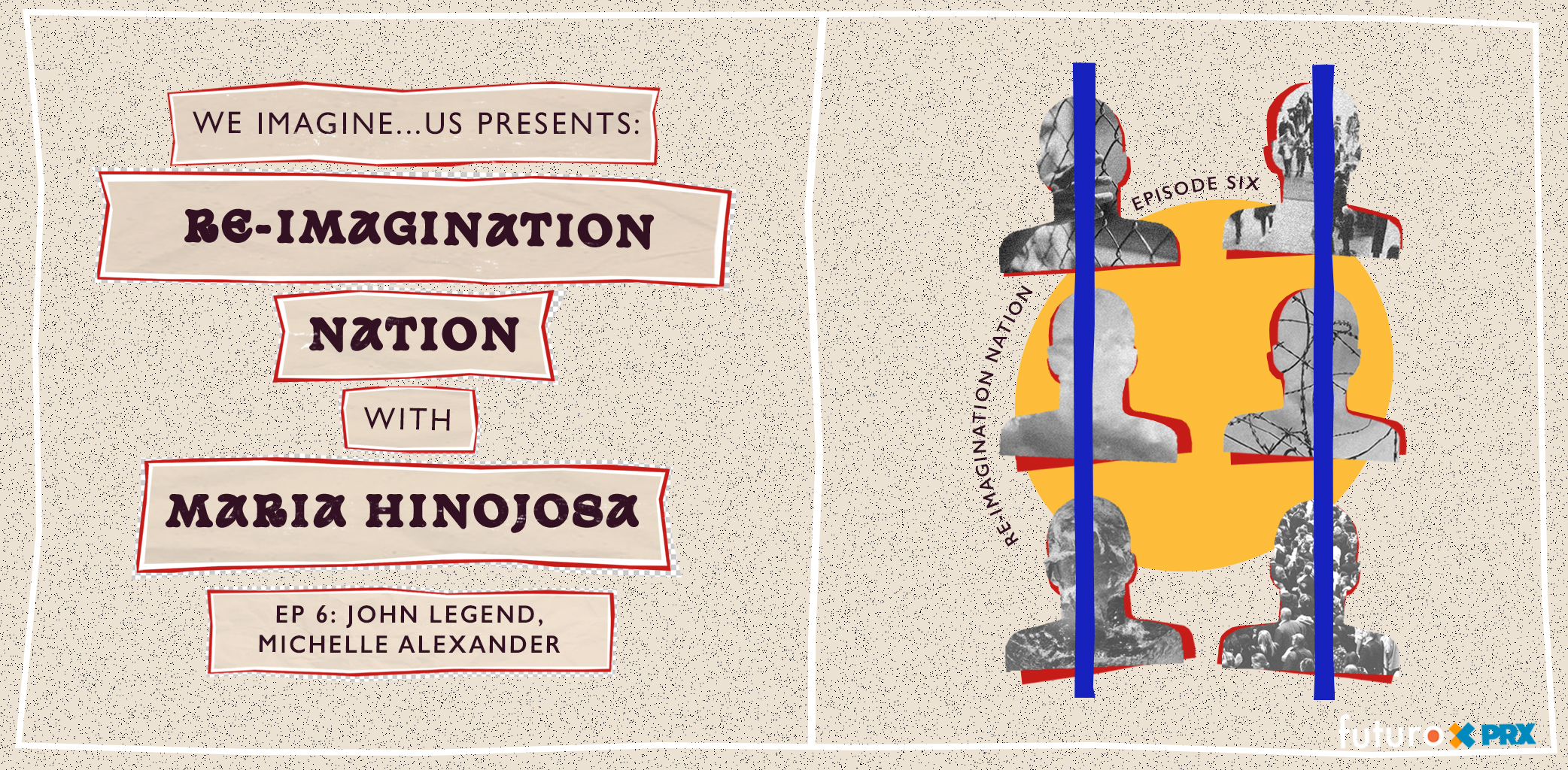 In our sixth episode, we consider the role and funding of police. We speak with two SCoRE (Solidarity Council on Racial Equity) members who have inspired millions of people all over the globe —artist John Legend and author Michelle Alexander— who talk about their reimagined worlds free of toxic policing, jails or prisons and a future rooted in mutual care and solidarity found, in part, from listening with compassion to those whose experiences differ from our own.
We Imagine…. Us Animation Series
Welcome to the We Imagine…. Us Animation Series where you can see how societies can be built on the principles of racial and equal justice and solidarity. These three fictional episodes highlight the aspirational daydreams of three different characters featured in the fictional podcast series, The Long Way Around.
We Imagine…. Us: The Animated Series – Ep. 1 "Anahí's Story"
Episode 1 features Anahí Echevarría Gutiérrez Barrios, a Guatemalan-American union organizer who appears in the 6-part companion podcast, The Long Way Around. As she travels to Houston, Texas to buy an engagement ring for her beloved Lucille, Anahí envisions a more equitable society as she listens to a 'Re-Imagination Nation Podcast' interview with award-winning journalist and Futuro Media Group Founder, Maria Hinojosa, and the Emmy, Grammy, Oscar and Tony award-winning musician and activist, John Legend.
The world that Anahí Barrios imagines represents the kind of society we can build when we look at adversity as an opportunity rather than a barrier. If we change the narrative so that our differences are widely valued, we'll be well on our way to building stronger communities.
We Imagine…. Us: The Animated Series – Ep. 2 "Claressa's Story"
Episode 2 features Claressa Brown, a Black environmental justice activist and college student who appears in the 6-part companion podcast, The Long Way Around. Claressa envisions a world that reflects environmental and racial justice as she travels to Lake Charles, Louisiana while listening to a podcast interview featuring the author of "The Sum of Us" and Board Chair of the racial justice organization, Color of Change, Heather McGhee.
The world that Claressa Brown imagines represents the kind of society we can build when we look at adversity as an opportunity rather than a barrier. Creating equitable societies means that everyone can benefit on a level playing field; it's not a zero-sum outcome with winners and losers.
We Imagine…. Us: The Animated Series – Ep. 3 "Mercy's Story"
We Imagine…. Us, Episode 3 features Mercy Watkins, the beloved daughter of Albert 'Bumpy' Watkins, a Black widower who was formerly incarcerated and the late Audrey Watkins, a Vietnamese-American nursing student. Mercy and Bumpy star in the 6-part companion podcast, The Long Way Around. It's the year 2037, and Mercy is a 31-year-old, single mother reminiscing about a fateful journey she took as a 16-year-old with her father. After traveling from their old home in Galveston, Texas to their new home in Willmar, Minnesota, their lives took a shocking turn 15 years ago and Mercy takes stock of the sorrows and the joys they've experienced. This episode stars Emmy award-winning actress Karrueche Tran as Adult Mercy and features the Emmy, Grammy, Oscar and Tony award-winning musician and activist John Legend, and Civil Rights Attorney, legal scholar and the author of The New Jim Crow, Michelle Alexander.
The world that Mercy Watkins imagines represents the kind of society we can build when we look at adversity as an opportunity rather than a barrier. Building solidarity across cultures, generations —all conceivable barriers— helps to build strong, equitable societies. Everyone can benefit. 
***
About
The We Imagine…Us project consists of two interlocking series that will explore and reflect on themes of racial solidarity and equity:
The Long Way Around: Futuro Media's first fiction podcast series tells the story of a Black American father and his Black Vietnamese American daughter who set out across the United States in hope of rebuilding their lives. From the impact of incarceration on parents and children to issues of immigration, environmental racism, and the fight for fair wages, this audio drama written by Emmy winning screenwriter Trey Ellis offers a moving and clear-eyed look at our contemporary struggles and how, through solidarity, we can make a change. With a focus on representation and centering voices of color, this series presents an expansive multicultural cast and creative team, including Emmy Award-winner Karrueche Tran.
Re-Imagination Nation with Maria Hinojosa: is a companion series and will delve more deeply into the issues raised in the fiction series and features interviews with thought leaders, artists, and activists who are members of SCoRE (Solidarity Council on Racial Equity) including Michelle Alexander, Ava DuVernay, Saru Jayaraman, Heather McGhee, Linda Sarsour, and others.
In addition, an animated shorts series titled We Imagine…Us will release in December of 2021 and features characters from The Long Way Around with insights from Michelle Alexander, John Legend, and Heather McGhee. The powerful visual works were directed and written by Trey Ellis and created with The Animation Lounge.
Support for We Imagine…Us is provided by a grant from The W.K. Kellogg Foundation: A partner with communities where children come first.
We Imagine…Us is a production of Futuro Unidad Hinojosa, a division of Futuro Media with PRX.
***
Meet the Team
Maria Hinojosa
Executive Producer, We Imagine…US; Host Re-Imagination Nation with Maria Hinojosa  
Maria Hinojosa dreamed of a space where she could create independent, multimedia journalism that explores and gives a critical voice to the diverse American experience. She made that dream a reality in 2010 when she created Futuro Media, an independent, nonprofit newsroom based in Harlem, NYC with the mission to create multimedia content from a POC perspective. As Anchor and Executive Producer of the Peabody Award-winning show Latino USA, distributed by PRX, and Co-Host of Futuro Media's award-winning political podcast In The Thick, Hinojosa has informed millions about the changing cultural and political landscape in America and abroad.
Trey Ellis
Lead Writer (The Long Way Around, Animated Video Series), Director (Animated Video Series)
Trey Ellis is a two-time Emmy and Peabody winning filmmaker, American Book Award winning novelist, NAACP Image award winning playwright, essayist and Professor of Professional Practice at Columbia University's School of the Arts.  Most recently, he was an Executive Producer and Interviewer for the HBO documentaries True Justice: Bryan Stevenson's Fight for Equality and King in the Wilderness. His screenplay Holy Mackerel! is one of the highest ever rated on Franklin Leonard's Black List.com. Some of his other screenplays include The Tuskegee Airmen for HBO and Good Fences for Showtime, which premiered at the Sundance Film Festival and was shortlisted for the PEN award for Best Teleplay. His works have been screened at the Museum of Modern Art and the Brooklyn Academy of Music. He is the author of the novels, Platitudes, Home Repairs and Right Here, Right Now, as well as the memoir Bedtime Stories: Adventures in the Land of Single-Fatherhood.  His essays have appeared in The New Yorker, The New York Times, Playboy, The Washington Post, The Los Angeles Times, GQ and Vanity Fair and he has contributed audio commentary to NPR's All Things Considered. His play, Fly, was commissioned by the Lincoln Center Institute and continues to be performed around the country including Washington, D.C.'s Ford's Theater, the Pasadena Playhouse and the New Victory Theater in New York. He is currently in rehearsals for a musical on the life of Dorothy Dandridge for which he wrote the book and is co-writer of the lyrics.
Paula Gammon Wilson
Senior Podcast Producer, Director (The Long Way Around), Casting Director (The Long Way around)
Paula Gammon Wilson is the Owner/ Director of Pepsqually VO and Sound Design, Inc. in New York City and Pepsqually Portugal in Lisbon, Portugal. She is known for her excellence with managing multinational production teams due to her nearly 25 years experience as a director, production manager, dancer, writer, and voice over artist in North America, Asia, Europe, and South America. Since 2017, she has been the "go-to" audio producer for several dramatic children's podcast projects for clients such as Scholastic, Inc. and Pinna/Panoply. She has served as VO Performance Director, co-Sound Designer, and Casting Director for 15 podcast series, 11 of which have won Parents' Choice Awards. She is a VO Performance Director for several cartoons and her animated series work has collectively amassed over 900 million views on YouTube. Paula also piloted a program for ESL Musical Theater in 2009-2010, co-authored a series of textbooks on the work, and conducted multi-day workshops at TESOL New England and TESOL Arabia, among other symposiums.
Michael Ramos
Composer
Michael Ramos is a producer/composer/ musician from Austin, TX. Michael has toured and recorded with a vast array of artists including John Mellencanp, The Rembrandts, Lila Downs, Paul Simon, Robert Plant, Kris Kristofferson, Patty Griffin, Los Lonely Boys, The BoDeans, Pat Green, Lucinda Williams, and many others, as well as writing and producing for his own project, Charanga Cakewalk. He is the owner of Brown Recluse Studio where he produces projects for others as well as his own music and film and TV scoring projects. He was awarded a Latin Grammy in 2016 for his studio work with Lila Downs. In addition to his successful career as a musician, composer, and producer, Michael has joined Lucky Hound Music as an A&R person/staff producer and is also a member of The 484 Artist Management team. At this point in his career Michael says, "I am always looking for my next challenge. I look for the things that keep my passion for music fresh and exciting."
Andrés Caballero
Senior Producer (Re-Imagination Nation with Maria Hinojosa), Podcast Producer (The Long Way Around)
Andrés Caballero an Argentine filmmaker, journalist and public radio producer based in California. He co-directed The Interpreters, a 2020 Emmy Award-nominated documentary about Afghan and Iraqi interpreters targeted for their work with US forces, PBS/Independent Lens. He also co-directed Gaucho del Norte, America Reframed, 2015, a feature length documentary following immigrant sheepherders in the western deserts and mountains of the US. Andrés produced An Act of Worship for the "First 100 Days" series with Firelight Media/Field of Vision collaboration, 2017. He is an ITVS, MacArthur Foundation and Tribeca Film Institute grantee and a former Firelight Media Lab/FRONTLINE fellow. His work as a public radio and podcast producer has appeared on NPR, Latino USA, Morning Edition, StoryCorps, The Marshall Project among other platforms. He is a former NPR "Above the Fray" fellow, where he covered the civil war in the Central African Republic and filed stories from Cameroon. Andrés has a Master's Degree from the Columbia Graduate School of Journalism.
Leslie Gaston-Bird
Sound Designer
Leslie Gaston-Bird (AMPS, M.P.S.E.) is author of the book "Women in Audio", part of the AES Presents series and published by Focal Press (Routledge). She is a voting member of the Recording Academy (The Grammys®) and its P&E  (Producers and Engineers) Wing. Currently, she is a freelance re-recording (dubbing) mixer and sound editor, and owner of Mix Messiah Productions which specializes in 5.1 surround mixing. Prior to that, she was a tenured Associate Professor of Recording Arts at the University of Colorado Denver (2005-2018) where she also served as Chair of the Department of Music and Entertainment Industry Studies. She led groups of Recording Arts students in study abroad courses in England, Germany, and Italy which included participation in AES Conventions. Leslie has done research on audio for planetariums, multichannel audio on Blu-Ray, and a comparison of multichannel codecs that was published in the AES Journal.
Questar Welsh
Recording Engineer
Questar Welsh is the owner of Real Recording, Inc. in New York City. He is an award-winning, veteran recording engineer and producer, with over 30 years experience as an engineer/producer for the radio, film, television, and music industries. Known for his unflappable professionalism, speed, and unsurpassed quality control, he has become the favorite engineer/producer for such companies as Nickelodeon, Luckie and Company, New York State Medicaid Choice, Macmillan Publishing, Exhale Spa, St. Martins Press, Cason Nightingale Creative, Henry Holt and Company, Woofbert, Atavist Books, Correction Officers Benevolent Association, Sample SRL Italy, Brooks Audio, Stony Brook Medical Center, Nice Advertising, Select Records, 4K Media, Skyline Arts, See Spot Cut, Vanarex World Wide, Tag Europe Ltd., Reebok, as well as an impressive roster both in the US and abroad.
Lori Knight
Senior Video Producer
Lori Knight is an award-winning broadcast journalist whose work has been featured on marquee news programs including The CBS Evening News with Dan Rather, 60 Minutes and CBS Reports. She began her career at CBS News producing feature pieces for The CBS Evening News with Dan Rather. She co-produced and directed several hours for the documentary unit CBS Reports where her team garnered an Emmy award and the coveted Edward R. Murrow award for the documentary Legacy of Shame. At 60 Minutes, she produced investigative reports with Mike Wallace, Bob Simon and Steve Kroft. In 2005, Lori became a freelance producer, writer and director for a digital media unit at Citigroup's  Investment Bank. She then returned to investigative journalism when she joined Aljazeera America. Lori worked on the WGBH program, Point Taken. It was a civil debate show that presciently countered the growing animus in American politics and public discourse.
Tiffany Brathwaite
Senior Digital Producer
A native New Yorker and child of the internet (memes are her love language), Tiffany has 10+ years of experience producing digital and experiential campaigns for global brands. As a marketing creative and editorial producer, she's produced and directed campaigns for Carol's Daughter, Weight Watchers, Tic Tac, United Airlines, Netflix's Strong Black Lead and The Phenomenal Action Network. She's excited to leverage her many years in content production, marketing and obsession with the internet to the We Imagine.. Us project.
Diane Sylvester
Executive Producer Special Projects & Investigative
Diane is a veteran journalist and storyteller overseeing the development of investigative and special projects at Futuro. She previously worked as a Senior Manager for the Wall Street Journal's Global Video Unit. Earlier in her career she worked for ABC News and CNN reporting from Washington DC, New York and overseas as well as on independent longform productions for cable networks. Her reporting has garnered multiple Emmy awards and a New York Press Award. She has also worked as an independent filmmaker and storyteller and she was awarded a National Endowment for the Humanities grant for her work-in-progress documentary about Cuban-US relations.
Gregory Branch
Senior Supervising Producer 
Gregory Branch is an award-winning journalist, producer and media executive with more than 20 years of experience including digital newsroom management, production, breaking news coverage, live event coverage, and documentaries. A recipient of various awards including the Emmy, Edward R. Murrow, Telly, NABJ, Branch's work has spanned 31 countries across 4 continents. As a global storyteller, Branch has overseen newsrooms, led production teams and trained budding journalists. His experience includes; Dateline NBC, CBS News London Bureau, 60 Minutes, Eye to Eye with Connie Chung, CBS News Foreign Desk Weekend News Manager, Street Stories with Ed Bradley, Prime Time Live, PBS, ESPN, BET, CNN International, ITN, Current TV, Gospel Music Channel, The Africa Channel and the Black Family Channel. Adept at content development, news production, breaking news, live events, and production finance. 
Williams Oaks IV
Production Manager
William Oaks IV is an experienced producer, performer and production management professional who has planned large scale events ranging from docu-series, awards shows, live performance, and fashion events for television. He is a Knoxville, TN native and Howard University graduate who is a lover of all phases of production and strives to nurture business relationships in the entertainment industry.
Sandro Madsen
Producer-Editor
Based in NYC, Sandro Madsen was born in the U.S raised Italy, Denmark, and Israel. As a multifaceted artist; Filmmaker, Producer, Editor, Writer, and Fine Artist; Sandro has supported various cable TV shows, Feature Films, and Commercial Clients. Their strong creative talents have proven to be an asset in areas of conception to script revisions, production phases, and throughout all phases of the editing process. Sandro has had the pleasure of supporting and facilitating both production and post-production for high end clients such as, Revlon JetBlue, Geico, La Mer, Conde Nast, Macy's, Brand USA, Chobani, Food Network, A&E, TLC, Lifetime, History, Discovery, NBC, CBS, ABC, PBS, VICE, Maysles Films, and HBO. 
Khaliff Watkins
Senior Project Editor & Researcher
Khaliff Watkins is a writer, creative producer and researcher with over 15 years of experience in factual and scripted TV, news and corporate video. He has contributed to programming for BET, ITN, FSTV and other networks—creating, developing and producing talk shows, documentaries and cultural TV series that have earned Emmy, Telly, NAMIC Vision and San Diego Black Film Festival awards. Originally from West Philadelphia, Khaliff credits his upbringing among socially conscious, ethnically and religiously diverse communities to his commitment for storytelling that seeks to engage across borderlines. An occasional presenter at science fiction conventions, he's also passionate about BIPOC representation and imagined futures in the speculative arts.
Tanya Bustos
Post Production Supervising Producer
Tanya Bustos began her career in radio, producing talk shows and live specials for Sirius XM.  She went on to work at The Wall Street Journal, where she launched WSJ Podcasts and served as supervising producer and host. Before joining Futuro, she most recently worked as a senior podcast producer for Inverse and BuzzFeed.
Amy Tardif
Fact-Checker
She's a Regional Manager for Report for America and a Managing Editor for NPR's Next Generation Radio. Amy was formerly the Manager of StoryCorps in Chicago and WGCU Public Media's Station Manager and News Director.
Cast of The Long Way Around
Starring Karrueche Tran as Adult Mercy Watkins
Best known for her role as Virginia on TNT's acclaimed series Claws, Karrueche Tran has accumulated a worldwide fan base of over 10 million combined social media followers and counting. Karrueche not only stars in the Emmy award-winning web series, The Bay, but made history at the 2021 Daytime Emmy Awards as the first AAPI acting winner of any Emmy competition, and the first Asian performer to win a lead acting Emmy in any acting competition (Daytime or Prime Emmys). She was also seen on FOX's Deputy in a recurring role as Genevieve and guest-starred alongside Tracy Morgan on his TBS show, The Last O.G.
Maria Ta: Mercy as Teenage Mercy Watkins
Arlando Smith as Albert "Bumpy" Watkins
Elyse Dinh as Grandma Duyen, Vietnamese Waitress, Kolache Worker 2
Leonard Le as Grandpa Tuan
Marisa Blake as Anahi
David Lee Huynh as Jimmy, Train Conductor, Police Officer 1
Dianne Dudley as Officer Simmons, Female Newscaster, Bus Passenger
William Figueroa as Enrique, Kolache Worker 1, Train Conductor 2
Ryan Shrime as Chip, Border Patrol Agent 
Billy Bob Thompson as Quincy, Guard 1, British Newscaster
Marco Antonio Rodriguez as Guy 2, Guy in Car, Border Patrol Officer
Barron Bass as Male Newscaster, Bus Driver
Blessid NiaYemi as Claressa, Bus Patron
Soraya Butler as Vonetta
Meggy Hai Trang as Vietnamese Waitress
Saurin Choksi as Vignesh
Dee Dorcas as Amina, Drive Thru Teen 
Eric Reis as Train Conductor 4
Daniel Edwards as Probation Officer Lee, Other Border Agent, Police Officer 2
Michelle Guanca as Train Conductor 3
Alyson Rosenfeld as Karen, Newscaster
Andy Lowe as Ciulung Ma
Dylan Jones as Willmar Police Officer 1
***